August 13, 2012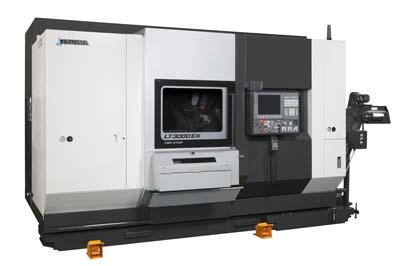 August 12012 — Okuma America Corp. introduced the new LT-3000EX CNC lathe. The LT-3000EX is now the largest in Okuma's LT-EX series of horizontal lathe machines.
This fully-loaded CNC lathe is available in ether two- or three-turret versions, with or without Y-axis, to provide optimum process balance, production throughput and integrated operations. The LT-3000EX delivers precision turning in any direction, and is well suited for high production environments such as the automotive industry.
The LT-3000EX is available with 16 turret stations to allow for redundant tooling in order to best utilize back-up tooling for lights-out manufacturing or high production runs. It offers very high feature utilization and the greatest amount of primary and secondary machining possible in one compact platform. The machine can be specified in a large number of different configurations to maximize benefits for specific production environments.
Key Specifications for the LT-3000EX:
Maximum Turning Diameter: 13.77 in (350mm)
Spindle ID: 3.15 in (Standard Bore) or 3.58 in (Big Bore) [80mm or 91mm]
Spindle Nose Type: A2-6 (A2-8 optional)
Chuck Class: 8-inch
Speed Range 45~5,000 rpm (45~4,200 rpm optional)
Standard Power: VAC 22/15 kW (30/20 hp) [30/22 kW (40/30 hp) optional] T
win Opposed Spindles: A-B operation simultaneous, 4-axis simultaneous turning on either spindle
Automatic Part Transfer
THINC OSP P300L Control
Okuma Intelligent Technologies: Thermo-Friendly Concept (standard), Machining-Navi (optional) and Collision Avoidance System (optional)
M and MY function available
Optional Barfeed Systems