March 31, 2016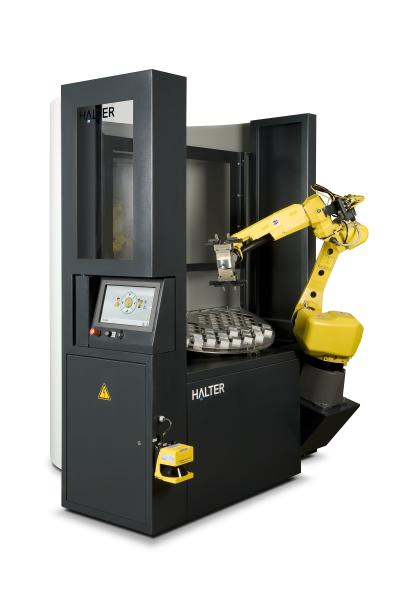 HALTER's LoadAssistant is a robotic system for loading workpieces into CNC machines. It is a universal for both CNC lathes and machining centers, with a rotating loading system that can handle a large range of workpieces quickly. It assists in increasing production output and improves profit immediately, even when dealing with small batches, according to the company.
The LoadAssistant was designed to minimize setup time, enabling users to automate even small batch sizes. Total setup time is less than 5 minutes.
No robotics experience is required to operate the system's SmartControl. No robot programming is necessary. Just enter the dimensions of the product to be loaded. The machine is accessible by the operator at all times. It is equipped with a floor scanner to slow down and stop the robot arm.
Optimal gripper system is quick and easy to adjust. A two- or three-finger gripper is available. The program is ready in just a few steps.
Compact all-in-one design:
No additional components, fences or cables necessary
Rotating system allows filling from the backside
Minimal usage of floor space, including the safety zone
FANUC 6-axis robot arm:
Maximum load capacity of robot arm: 22 lbs. (10 kg), 44 lbs. (20 kg) or 77 lbs. (35 kg)
Suitable for industrial environments, high standards regarding stability and accuracy
Related Glossary Terms
centers


centers

Cone-shaped pins that support a workpiece by one or two ends during machining. The centers fit into holes drilled in the workpiece ends. Centers that turn with the workpiece are called "live" centers; those that do not are called "dead" centers.

computer numerical control ( CNC)


computer numerical control ( CNC)

Microprocessor-based controller dedicated to a machine tool that permits the creation or modification of parts. Programmed numerical control activates the machine's servos and spindle drives and controls the various machining operations. See DNC, direct numerical control; NC, numerical control.

robotics


robotics

Discipline involving self-actuating and self-operating devices. Robots frequently imitate human capabilities, including the ability to manipulate physical objects while evaluating and reacting appropriately to various stimuli. See industrial robot; robot.