September 01, 2011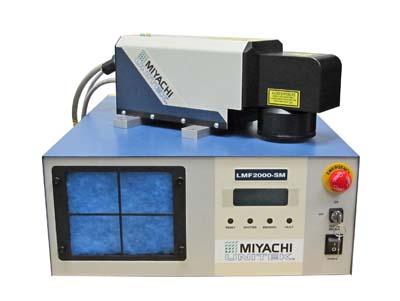 Miyachi Unitek Corp. announces the release of its new 20W single mode fiber laser marker, which yields a finer beam with a variety of advantages for marking, scribing and cutting applications. The new LMF 2000-SM laser marker can produce finer lines and increases the mark working area. It also has an increased depth of focus for marking on curved surfaces. The new model is ideal for the scribing and cutting a wide variety of materials, including alumina, silicon, copper and aluminum foils.
Miyachi Unitek developed the new single mode model in response to customer demand for fine marking (less than 30µm) and micromachining applications. The LMF 2000-SM has a high beam quality, with an M2 of less than 1.2. While multi-mode fiber has higher light-gathering capacity than single-mode optical fiber, single mode fibers allow only one propagation mode of the light, increasing focusability.
The LMF series of fiber laser markers offers high beam quality and high peak power, which maximizes speed and depth. Featuring a compact, air-cooled, robust design, the LMF series features PC, touchscreen, stand alone or pendant operation, rotary and XYZ motion options, and a variety of marking software alternatives. The LMF 2000-SM is compatible with all LMF standard configuration options for optics, heads, PC, and motion.