August 29, 2018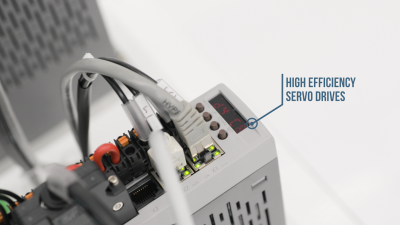 ANCA Motion designs and manufactures flexible control systems, specializing in high-precision solutions for CNC machines. Unique to ANCA Motion is the LinX M-series linear motor, which is housed within a slim body. The motor is highly energy efficient and delivers precision CNC applications or high-speed automation systems every time.
An early adopter to new technology, ANCA Motion will also reveal its Single Cable Motion System that adopts the Hiperface DSL protocol technology by using a single cable to simplify machine integration, reduce waste and offer improved diagnostics.
Naveen Nadesan, ANCA Motion marketing manager said: "There is a clear trend for companies to use energy in a more efficient manner. Replacing a pneumatic cylinder with a tubular linear motor reduces energy costs achieving a relatively short payback period of 6 to 12 months. The LinX M-Series linear motor therefore provides a unique benefit to OEMs seeking higher performance, accuracy and reliability in their machines."
Two LinX motors will be displayed in a V-structure parallel robot (V-Bot) arrangement showcasing
high-speed pick and place application; and
high precision contouring around various shapes.
The LinX M-Series is fully compatible with standard pneumatics accessories such as mounting plates, linear guides and couplings.
ANCA Motion's Single Cable Motion System adopts the Hiperface DSL protocol technology connecting the drive to a servo motor using a single cable. The Hiperface DSL encoder technology offers significant
high accuracy and precision with improved diagnostics.
Naveen concluded: "ANCA Motion offers a wide range of control systems and have more recently been working largely with laser cutting businesses, providing a complete motor solution for their machines."
Related Glossary Terms
computer numerical control ( CNC)


computer numerical control ( CNC)

Microprocessor-based controller dedicated to a machine tool that permits the creation or modification of parts. Programmed numerical control activates the machine's servos and spindle drives and controls the various machining operations. See DNC, direct numerical control; NC, numerical control.

linear motor


linear motor

Functionally the same as a rotary motor in a machine tool, a linear motor can be thought of as a standard permanent-magnet, rotary-style motor slit axially to the center and then peeled back and laid flat. The major advantage of using a linear motor to drive the axis motion is that it eliminates the inefficiency and mechanical variance caused by the ballscrew assembly system used in most CNC machines.

parallel


parallel

Strip or block of precision-ground stock used to elevate a workpiece, while keeping it parallel to the worktable, to prevent cutter/table contact.