August 10, 2016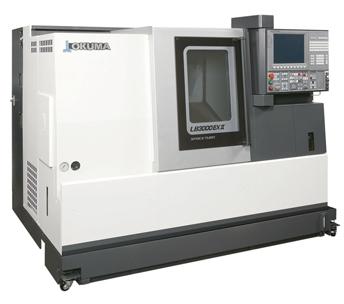 The LB3000 EX-II is Okuma's premier 1-saddle lathe. It's available with milling function and Y-axis capabilities and features an optional extended bed length that is 30 percent longer on the L, M and MY models. The LB-EX platform is well-known for its speed, accuracy and reliability, which enable a variety of configurations and allows the machine to be used for many industries, including oil and gas.
Built with Okuma's box slant-bed design, the LB provides rigidity and extreme thermal stability, which is especially important when used in facilities with uncontrolled environmental conditions.
This 2-axis CNC lathe is the largest horizontal lathe in Okuma's Affordable Excellence collection of machines and is equipped with Okuma's high-power, high-torque PREX motor, delivering high-quality machining for heavy to high-speed cutting. This versatile machine provides the capacity to efficiently turn and mill pipe-type products with a through-hole diameter that can accommodate larger workpieces. It's also available in two bed lengths.