October 30, 2017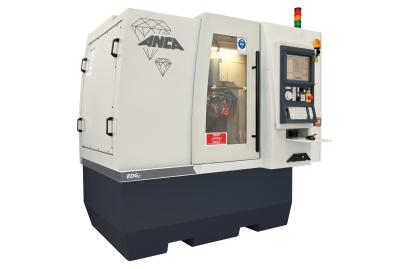 Once again, ANCA says it is launching new technology to bring tremendous benefits to its customers with the LaserPlus system on their EDGe machine. The EDGe is used to erode PCD cutting tools, which in turn are widely used in aerospace, automotive, electronics and wood industries.
Duncan Thomson, ANCA product manager said: "The LaserpPlus technology on our high performing EDGe machine is helping our customers achieve much better accuracy and reduce waste. It ensures all tools in a batch stay within target tolerances, regardless of external influences such as wheel (electrode) wear or machine growth due to thermal variation. The result is improved tool consistency, quality and reduced scrap tools."
ANCA's EDGe machine includes its proprietary eSpark generator for optimal PCD erosion results. That means that on the one-wheel spindle, two wheel packs support both erosion and grinding operations, making it a versatile machine. The addition of the LaserPlus further enhances the machines capabilities for customers.
First introduced on its ANCA's tool grinding machines, the LaserPlus system allows newly ground tools to be automatically measured in the machine using a noncontact Blum laser system. Then if required, compensation is automatically applied to subsequent tools in the batch.
Duncan continues: "For customers manufacturing PCD cutting tools the laser technology provides real value due to the unique challenges involved with the process of electro-discharge grinding (EDG)."
"Without touching the PCD cutting edge, LaserPlus is able to measure a cutting tool feature before the final erosion pass. By doing this, the technology can identify any variation; which may, for example, be the result of thermal drift or wear on the electrode; from the nominal size and account for this in the final finishing pass. The result is that the finished tool geometry is guaranteed to be on size," he concluded.
For manufacturers of PCD tools where the cost of a PCD tool blank is considerably higher than equivalent carbide, having the security of knowing you can run a batch of tools unmanned, and have none scrapped is valuable indeed.
LaserPlus also brings with it, useful features such as automatic generation of a cutting tool measurement report that can be sent together with the tool to ensure your customer quality assurance expectations are met.
Related Glossary Terms
grinding


grinding

Machining operation in which material is removed from the workpiece by a powered abrasive wheel, stone, belt, paste, sheet, compound, slurry, etc. Takes various forms: surface grinding (creates flat and/or squared surfaces); cylindrical grinding (for external cylindrical and tapered shapes, fillets, undercuts, etc.); centerless grinding; chamfering; thread and form grinding; tool and cutter grinding; offhand grinding; lapping and polishing (grinding with extremely fine grits to create ultrasmooth surfaces); honing; and disc grinding.

polycrystalline diamond ( PCD)


polycrystalline diamond ( PCD)

Cutting tool material consisting of natural or synthetic diamond crystals bonded together under high pressure at elevated temperatures. PCD is available as a tip brazed to a carbide insert carrier. Used for machining nonferrous alloys and nonmetallic materials at high cutting speeds.

quality assurance ( quality control)


quality assurance ( quality control)

Terms denoting a formal program for monitoring product quality. The denotations are the same, but QC typically connotes a more traditional postmachining inspection system, while QA implies a more comprehensive approach, with emphasis on "total quality," broad quality principles, statistical process control and other statistical methods.