November 13, 2012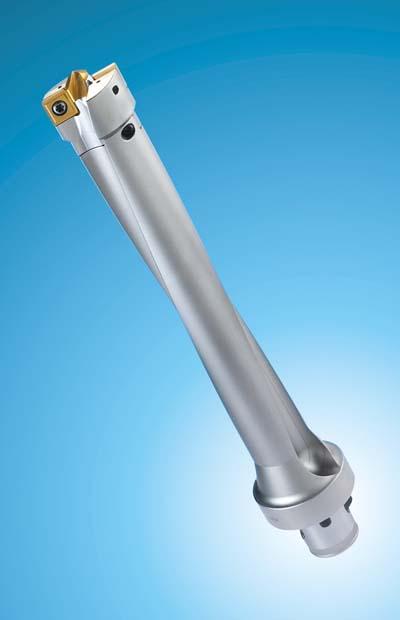 The KOMET GROUP's new KOMET KUB Centron Powerline is an advanced development of the KOMET KUB Centron core bit drill.
The new Powerline series incorporates important features of the KUB Centron tools, such as central drill bit, clear connection point and the drill head. The use of four-edged Quatron reversible cutting blades is new, however. Users benefit from the double edges and resulting increase in feed speeds. This in turn leads to shorter manufacturing times.
The central drill bit of the KOMET KUB Centron® Powerline guides the tool precisely into the bore axis and thus guarantees dimensional accuracy, straightness and maximum process reliability at drilling depths up to 9 times diameter. The extremely sturdy Quatron reversible cutting blade guarantees maximum stability and optimum chip discharge even at large drilling depths. Thanks to the cut distribution per side (from x 39mm) short chips are possible even with materials that are difficult to machine.
The new KOMET KUB CentronPowerline can be used on all existing KUB Centron basic elements.
Related Glossary Terms
feed


feed

Rate of change of position of the tool as a whole, relative to the workpiece while cutting.