October 13,2012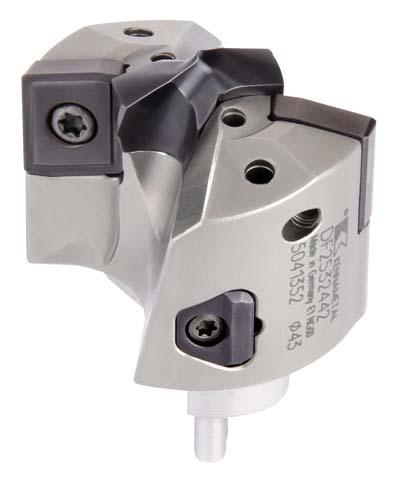 The simple but effective KSEM PLUS modular system from Kennametal Inc. that combines the benefits of the KSEM modular drill (high feeds and length-to-diameter [L/D] ratios) with the benefits of an indexable drill (high speeds and low consumable costs) is for drilling large diameter applications. Kennametal is now extending its KSEM PLUS range by introducing new KSEM PLUS B1 Heads with DFC guiding pads to deliver reduced cost per hole in difficult drilling conditions.
The enhanced capabilities of the B1 Heads can handle drilling through stacked materials, inclined exits, drilling through cross holes, and interrupted cut conditions. With these new pads, KSEM PLUS B1 Heads benefit from accurate guidance of the head when drilling through cross holes with widths up to 50 percent of the drill's diameter. They also eliminate spiral marks and grooves and enable high-quality hole exits for reliable drilling from two sides when indexing drilling directions.
KSEM PLUS B1 Heads offer two effective cutting edges that work well at high feed rates to reduce the load per edge, compensate for radial forces, and prevent disk build up with only two chips per edge. They are available in standard sized from 28mm to 70mm and customized solutions from 28mm to 127mm.
Related Glossary Terms
feed


feed

Rate of change of position of the tool as a whole, relative to the workpiece while cutting.

interrupted cut


interrupted cut

Cutting tool repeatedly enters and exits the work. Subjects tool to shock loading, making tool toughness, impact strength and flexibility vital. Closely associated with milling operations. See shock loading.