December 01, 2014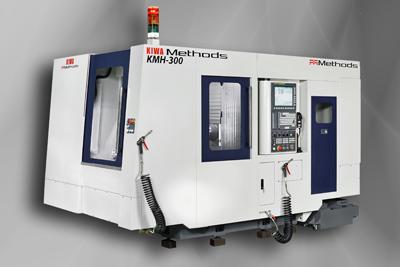 Methods Machine Tools Inc. has announced the introduction of a newly expanded line of KIWA Horizontal Machining Centers. With the new KIWA KMH Series, the competitively priced KIWA line now has pallet sizes ranging from 300mm to 1,250mm to handle a large range of part sizes.
"With the introduction of the KMH Series, we now offer our customers an affordable, entry solution for horizontal machining with the dependability and consistency they expect from a KIWA machine and Methods Machine Tools," said Bernie Otto, KIWA Product Manager for Methods Machine Tools.
The KMH-300 and KMH-630 Series offer an integrated full rotary B-Axis and a reliable FANUC Oi-MD control with a 15" LCD screen. Both feature excellent chip evacuation and easy access for setup/maintenance. A spindle oil cooling system and coolant-through ball-screws are standard.
The KMH-300 has a compact footprint of 140" depth x 107" width including the chip conveyor. Travels on the KMH-300 machine are 18.1" on the X and Y-Axes, and 13.7" on the Z-Axis. A 40 Taper version of this model due out in early 2015 as well.
The KMH-630 maximizes floor space with a footprint of 235" depth x 137" width including the chip conveyor. Travels on the KMH-600 are 39.7" on the X-Axis, 33.4" on the Y-Axis and 37.4" on the Z-Axis.
In addition, Methods introduced the new KH-Series models, including the KH-55 500mm dual pallet model, with 10k RPM, Cat 50-Taper and a newly expanded 240-tool ATC. The next generation KH-45 Series was also introduced, featuring the new KH-4500, shown as a PC6 version with increased rapid rates to 74m/min and a newly developed "ball drive system" for the 4th axis, which provides no backlash, resulting in higher rigidity and longer axis life. The KH-4500 showcases KIWA's newly developed 150 bar (2,000 psi) coolant through-the-spindle option. This feature is double the pressure of most models within its class, and is ideal for deep hole drilling, especially in harden steel applications.
Related Glossary Terms
backlash


backlash

Reaction in dynamic motion systems where potential energy that was created while the object was in motion is released when the object stops. Release of this potential energy or inertia causes the device to quickly snap backward relative to the last direction of motion. Backlash can cause a system's final resting position to be different from what was intended and from where the control system intended to stop the device.

centers


centers

Cone-shaped pins that support a workpiece by one or two ends during machining. The centers fit into holes drilled in the workpiece ends. Centers that turn with the workpiece are called "live" centers; those that do not are called "dead" centers.

coolant


coolant

Fluid that reduces temperature buildup at the tool/workpiece interface during machining. Normally takes the form of a liquid such as soluble or chemical mixtures (semisynthetic, synthetic) but can be pressurized air or other gas. Because of water's ability to absorb great quantities of heat, it is widely used as a coolant and vehicle for various cutting compounds, with the water-to-compound ratio varying with the machining task. See cutting fluid; semisynthetic cutting fluid; soluble-oil cutting fluid; synthetic cutting fluid.