September 01, 2015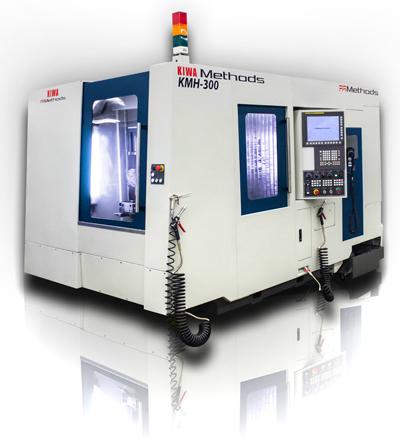 Methods Machine Tools Inc. made significant updates to its line of KIWA horizontals. The latest addition is a new compact KMH-300A Direct Drive model. The machine features a 40-Taper, 12,000 RPM, 12.6" (320mm) dual pallet, perfect for small automotive part machining and general job shop parts that require 40 taper tooling.
Methods is offering additional options, such as rotary tables integrated into the KIWA Horizontal machines as well as pallet shuttling capabilities to enable the 4-Axis machine to have 5-Axis capacity.
Another available option is the addition of Tombstones with multi rotary heads to give the machine 5-Axis capability. When using multiple rotary heads, several parts can be worked on in one cycle, enabling longer, unattended running times. The rotary heads have pallets, which allow a faster, more efficient changeovers between jobs.
"The expansion of the KMH Series now offers our customers a compact, affordable, entry solution for horizontal machining with the option for 5-Axis capabilities," said Bernie Otto, KIWA Product Manager for Methods Machine Tools.
The KMH series offers an integrated full rotary B-Axis and a reliable FANUC Oi-MD control with a 15" LCD screen. All models feature excellent chip evacuation and easy access for set-up/maintenance. A spindle oil cooling system and chilled ball-screws are standard on all models.
Methods has also updated several model configurations, to meet customer requests. The KH-Series models now includes the KH-55 19.7" (500mm) dual pallet model, with 10k RPM, Cat 50-Taper, with more spindle motor torque of 623NM (459lbs-ft). This option will allow for more aggressive cutting in hardened materials.
The KH-45 Series machines now include models with more Y-Axis travel to 29" (737mm), enabling tall parts that would normally require a 500mm size machine, to be processed on a smaller footprint machine, saving both money and space.
In addition, the KH-4500 Series machines, now offers models with 20k RPM and HSK 63 tooling, as well as a 1G, 74M rapids, making this machine extremely productive in cutting nonferrous materials.