November 30,2017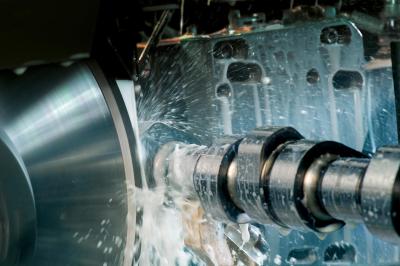 As increasingly stringent carbon emissions regulations are being imposed on the automotive industry, one solution to ensure compliance with these regulations is with variable engine timing using cam pieces. The JUCAM 1S from JUNKER specializes in the ultraprecise, efficient grinding of cam pieces.
The nerve center of the JUCAM 1S is a double workhead with two clamping fixtures. It can be swiveled 180 degrees to a precisely defined end position. The workpiece transfers from its initial loading position to the grinding position using a fully automated process. Concurrently, the second workpiece transitions from the grinding to the discharge position, which drastically reduces downtime.
JUNKER says its JUCAM 1S enables automotive manufacturers and suppliers to achieve economical cam piece grinding. The JUNKER noncylindrical grinding machine also specializes in the efficient package grinding of single cams.
When grinding cam pieces, the precise angular reference to the inner toothing is essential. Accordingly, the JUCAM 1S clamps the cam pieces with an inner clamping mandrel. The high quality standards demanded by the automotive industry are fulfilled by the "cam piece specialist" with its intelligent control system. This compensates automatically for material deviations or disturbing variables, such as fluctuations in temperature, guaranteeing that all components conform to a constant standard.
CBN, in a range of specifications, is used as an abrasive for maximum repeat accuracy, extended service life and high stock removal performance coupled with a consistently high standard of quality. Depending on the application, the grinding wheels are comprised of a carbon base body: It is lightweight, possesses vibration-damping properties and remains dimensionally stable even at high speeds.
With its JUCAM 1S, JUNKER offers far more than just a grinding machine. The company's performance promise includes delivery and installation of the machine, as well as a fully customized grinding process to meet the customer's production requirements.