May 24, 2023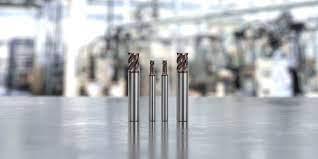 To address the challenges of difficult and unstable machining conditions caused by long tool overhangs, the Seco JS754 Stub Series end mills feature short protrusion lengths that maximize tooling value while increasing tool life by 20 to 40%.
The four-flute end mill is designed for mill-turn and multi-tasking machines and incorporates the industry- proven JS754 cutting geometry and unique HXT coating for high performance machining. This design makes the Seco JS754 series ideal for difficult applications involving ISO M (stainless steel) and S (heat-resistant superalloys and titanium) materials. The shorter length of the JS754 Stub adds strength and vibration control for increased tool stability when machining with main or sub spindles, as well as with milling heads and driven tools.
Ideal for minimum clearance setups
Many CNC mill-turn and multi-tasking machines are designed with a limited machining envelope that can prohibit the use of longer end mills. The JS754 Stub Series' short protrusion lengths require less room in the sub- or 2nd spindles of these machines. This end mill series provides freedom of movement to easily maneuver around workpieces with increased tool stability in these tight workspaces, which allows shops to maximize the benefits that mill-turn and multi-tasking machines offer, including shorter setup times and improved part quality.
The JS754 Stub series is offered in both chamfer and corner radius configurations in diameters from 3 mm to 16 mm and is available in cylindrical and Weldon shanks.
"Within all manufacturing segments, especially general machining and aerospace, the high-mix/low volume (HMLV) production environment continues to drive the need for automation and efficiency, achieved most commonly through mill-turn and multi-tasking machines," said Rob Mulders of SECO Tools. "The JS754 Stub Series contributes significant flexiblility for the single-setup part manufacturing, which these multi-purpose machines provide."
Reduced end mill waste
Due to its shorter cutting length, the JS754 Stub end mills provide full cutter engagement along the entire length of the tool. This maximizes cutter edge use, which helps reduce carbide waste for improved efficiency and increased sustainability.