May 10, 2019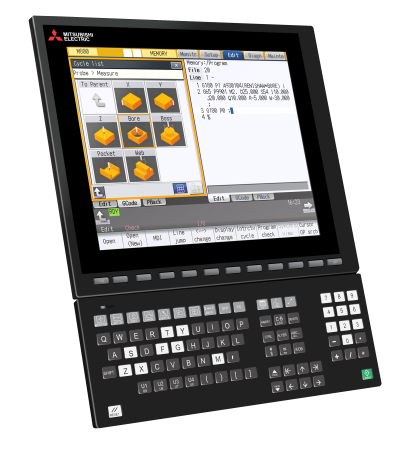 Machine tool programmers and engineers that utilize Renishaw's GoProbe macros could save significant time and labor with the use of Mitsubishi Electric Automation Inc.'s Interactive Cycle Insertion screens on its M8 Series of CNCs. They can use the Interactive Cycle Insertion screens to integrate Renishaw GoProbe macros directly into their CNC. Those looking to acquire a new Renishaw probe can also do so with the knowledge that it will integrate into the Mitsubishi Electric M8 Series controls.
Interactive Cycle Insertion is an icon-based programming method that lets engineers choose and customize cycles or features directly into their G-code program, through the edit screen. It reduces programming time and potential for human error because programmers do not have to hand-type the G code into the control. This solution is specifically applicable for tool and workpiece measurement.
"With the newly created Renishaw GUI screens used in the M8 CNC Series Interactive Cycle Insertion function, Renishaw probing cycles have become more user friendly," said Matthew Bascue, mechatronics engineer at Mitsubishi Electric Automation.
"Renishaw probes can reduce setup times by up to 90% and improve process control. Probing is an established practice for maximizing efficiency, quality, capability and accuracy of machine tools," said Dave Bozich, vice president of operations at Renishaw. "Standard routines built into modern CNC controls simplify integration of probing cycles. These routines, when combined with a CAD interface, streamline the simulation of measurement functions."
Related Glossary Terms
computer numerical control ( CNC)


computer numerical control ( CNC)

Microprocessor-based controller dedicated to a machine tool that permits the creation or modification of parts. Programmed numerical control activates the machine's servos and spindle drives and controls the various machining operations. See DNC, direct numerical control; NC, numerical control.

computer-aided design ( CAD)


computer-aided design ( CAD)

Product-design functions performed with the help of computers and special software.

process control


process control

Method of monitoring a process. Relates to electronic hardware and instrumentation used in automated process control. See in-process gaging, inspection; SPC, statistical process control.