July 17, 2021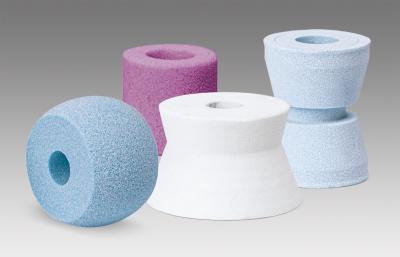 Saint-Gobain Abrasives, one of the world's largest abrasives manufacturers, announced the introduction of its new high performance Norton IDeal-Prime Internal Diameter Grinding Wheels for precision applications. The wheels feature a new innovative Norton Quantum Prime nano-crystalline ceramic grain, embedded in an optimized matrix of Norton Vitrium3 bond. The combination of the micro-fracture properties of the new ceramic grain from Saint-Gobain Abrasives and the retention capability of the bond ensures long wheel life, excellent grinding efficiency, and consistent part quality with superior finish which results in cost savings of 30% and more.
Reduced cycle times and lower cost per part are achieved due to the self-sharpening grain technology, which increases the material removal rate (MRR) and decreases the need for dressing. Even with increased MRR, the innovative grain technology in Norton IDeal-Prime Wheels offers unparalleled sharpness and cutting efficiency that reduces spindle power requirements, minimizing mechanical stress and improving part geometry.
For long wheel life, the new grain micro-structure enables cooler cuts and maintains more stable wheel profiles and shapes. Part surface finish is improved and consistent due to the Norton Vitrium3 bond technology in Norton IDeal-Prime Wheels.
"For customers demanding exceptional MRR in the highest tolerance precision applications, we are pleased to offer Norton IDeal-Prime Wheels," said Kelly Pica, Sr. Product Manager, Norton ǀ Saint-Gobain Abrasives. "The combination of the innovative grain and advanced bond technology in our new internal diameter grinding wheels provides an aggressive, free-cutting grinding solution with high productivity at a lower cost per part."
Norton IDeal-Prime Internal Diameter Grinding Wheels are ideally suited for a range of applications including bearing, automotive, general engineering and gear. The new wheels are available in grits ranging from 46 to 150, in grades from G to Q and in structures from 6 to 10.
Related Glossary Terms
dressing


dressing

Removal of undesirable materials from "loaded" grinding wheels using a single- or multi-point diamond or other tool. The process also exposes unused, sharp abrasive points. See loading; truing.

grinding


grinding

Machining operation in which material is removed from the workpiece by a powered abrasive wheel, stone, belt, paste, sheet, compound, slurry, etc. Takes various forms: surface grinding (creates flat and/or squared surfaces); cylindrical grinding (for external cylindrical and tapered shapes, fillets, undercuts, etc.); centerless grinding; chamfering; thread and form grinding; tool and cutter grinding; offhand grinding; lapping and polishing (grinding with extremely fine grits to create ultrasmooth surfaces); honing; and disc grinding.

tolerance


tolerance

Minimum and maximum amount a workpiece dimension is allowed to vary from a set standard and still be acceptable.