September 01,2015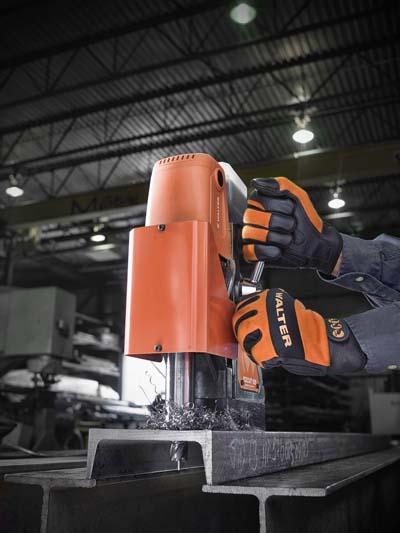 Walter Surface Technologies announces the introduction of the newly redesigned ICECUT 100 and ICECUT 200 magnetic drills. The ICECUT leverages state-of-the-art technologies, including the addition of the ACCUDRILL pressure indicator and material and thickness detector.
Redesigned for heavy-duty applications, the ACCUDRILL safety amp meter, conveniently located in the central control panel, allows users to achieve the most productive drilling operation and prevents the motor from overloading and overheating. In addition, the ICECUT also includes a material and thickness detector. This device will not allow the drill to start when the magnetic holding power is insufficient to secure the unit to the work piece and operate safely.
"In recent years, the market has been shifting towards lightweight magnetic drills" explains Stephane Drainville, Product Manager for Walter. "The ICECUT 100 and 200 magnetic drills are the most versatile units available today. They provide the safest way to drill large holes, regardless of user experience. This results in a lower production and labor costs."
Designed for off-site drilling, the ICECUT 100 weights 22lbs and is the only lightweight, mobile system that can provide both maximum cutting efficiency and safety with 850 Watts of power and 600RPM's.
The ICECUT 200 provides unparalleled performance when compared to other magnetic drilling units. Engineered for heavy-duty applications, it weights 27lbs and operates at 300RPM's and 600RPM's, allowing users to cut smaller and larger holes with precision.
To ensure the fastest drilling time and maximum life of the core cutters, ICECUT magnetic drill units are ideally paired with Walters's new line of annular cutters and the ICECUT cutting lubricants.
"Operators now have the perfect drilling technology and solution in hand, with the most competitively priced unit on the market today" concludes Drainville.