February 01, 2014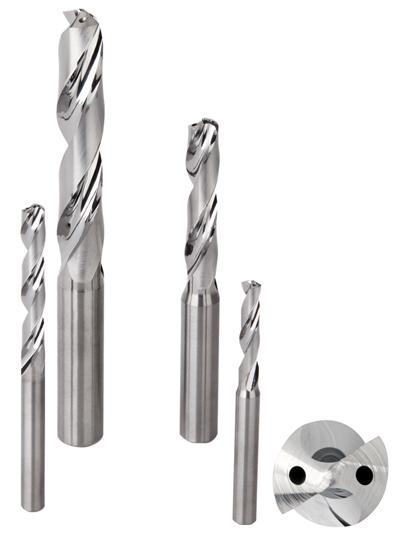 With its new Beyond grade of fine-grain carbide and unique point geometry, the new HPS solid-carbide drill from Kennametal is reportedly achieving excellent metal-removal rates and long tool life, making it an ideal tool for holemaking in aluminum.
Maintaining crucial production schedules while controlling costs is extremely hard when it comes to making high-precision holes in aluminum. Superhard polycrystalline diamond (PCD) drills are being chosen in up to 80 percent of transportation industry applications to date for cylinder blocks, cylinder heads, gear boxes, suspension parts, and many other critical components.
The downside is premium PCD solutions come at a premium price, making it extremely difficult for automotive industry suppliers and others to control costs and still maintain stringent production schedules.
Kennametal's Beyond KN15 carbide grade is specifically tailored for aluminum machining and features a highly polished surface that reduces friction on flutes, margins, and cutting edges. This results in superior chip evacuation, even in minimum-quantity lubrication (MQL) processes. Drill design features include a proprietary 135-degree high-performance drill point for excellent centering capabilities and improved feeds, and sharp cutting edges that lower cutting forces and extend tool life. An enlarged spiral flute design further speeds chip evacuation and reduces cutting forces.
Diameters range from 3.0 to 20.0mm (0.118 to 0.787") and lengths of 3XD and 5XD (through-coolant). Inch, metric, fractions, and tapping sizes are also available.
Additional Products from Kennametal Inc.