December 10, 2019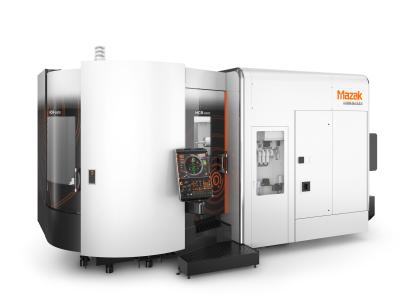 Mazak Corp.'s HCR-5000 horizontal machining center is a 5-axis machine that provides efficient, high-speed machining of small and mid-sized aluminum components and allows for several automation options for increased output. Designed to provide the aerospace and semiconductor/high-tech industries and others with numerous technological innovations, the HCR-5000 offers, in addition to 5-axis machining, a range of high-speed spindle options, from a standard 12,000-rpm spindle up to a 30,000-rpm version, each of which feature an integral spindle/motor and core cooling that minimize thermal growth for higher accuracy. The machine's auto toolchanger (ATC) features a standard 40-tool magazine with options for 80, 120 or 160 tools available to fit individual shops' needs.

For lights-out operation and to cope with shortages of skilled labor, Mazak offers the HCR-5000 with a two-pallet changer or the company's Multi-Pallet Pool (MPP) automation solutions. The machine also easily integrates into a Mazak Palletech automation system. With two-pallet changing, shops can load/unload parts on one pallet while the HCR-5000 continues to work uninterrupted on the other pallet. For shops requiring basic automation and that have limited floor space, Mazak's MPP System is a compact multiple pallet stocker system that takes up less room than a horizontal pallet stocker. As an expandable system, the MPP offers optimal flexibility by allowing shops to initially
incorporate the stocker with a few pallets and grow the system as production needs change.
Offering full automation and production flexibility, Mazak's Palletech brings high levels of efficiency to high-mix, low-volume production as well as high-volume operations. Fully compatible with the company's range of horizontal machining centers – including the HCR-5000 – and multitask machines, the Palletech is available in single, double and triple-level pallet stocker configurations. Because of its modular, pre-engineered construction, Palletech easily expands along with a shop's growing business, with a range of options that can accommodate up to 16 machines with 240 pallets and eight loading stations.

The HCR-5000 is equipped with Mazak's Mazatrol SmoothX CNC that provides operators with complete control of the machine. As the industry's most capable and powerful control, SmoothX enables 3D part program visualizations via its touch screen to further improve ease of use in terms of programming and program checking.