March 17, 2021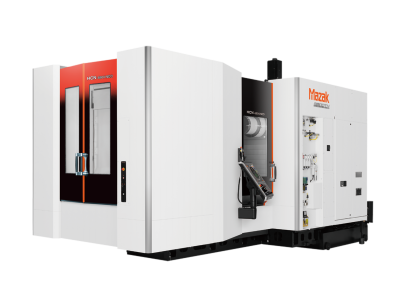 Mazak Corporation announced the release of the latest version of its popular HCN Series of horizontal machining centers, the HCN-6800 NEO. Introduced and demonstrated during the February 23 broadcast of All Axes LIVE, Mazak's online event series, the new model features a fully redesigned enclosure, best-in-class standard and optional equipment and improvements throughout the machine, all of which result in a fast, optimal solution for an even wider range of part-production applications.
The HCN-6800 NEO received numerous upgrades that take the previous generation's performance to a new level of efficiency and ease-of-use. The standard spindle, table, and magazine have all received significant improvements, including an upgraded, new standard 43-tool drum-type magazine that reduces tool exchange times. A redesigned ATC door is now servo-driven and faster; the new design will now also accommodate a longer tool. Likewise, for ease of maintenance, the machine incorporates hydraulic/motorized pallet changer mechanisms and an easier-to-access maintenance panel.
The machine's MAZATROL SmoothG CNC has expanded functionality with the Windows 10 operating system. In addition to the standard suite of SMOOTH TECHNOLOGY solutions and full EIA/ISO and MAZATROL compatibility, the HCN-6800 NEO provides users with access to the new Ai Thermal Shield technology first debuted on the new MAZATROL SmoothAi CNC. This advanced system uses machine learning and modeling to compensate instantly for changes in machine and ambient temperature over the course of operation, ensuring the highest degree of accuracy even over long machining cycles.
In addition to newly enhanced standard features, the new NEO model offers many new options. The high-torque 8,000 rpm spindle now provides even greater torque. The new machine also boasts an optional direct-drive motor table that offers the fastest indexing time in its class and, thanks to its rotary scale, high-accuracy positioning.
The HCN-6800 NEO can accommodate parts weighing up to 3,306.93 pounds and as part of the NEO configuration, the machine enclosure itself has been reduced in size; with a chip conveyor, the new model has a width of 134.06" and depth of 266.61".
These redesigned machines feature enhancements that further reduce cycle times, increase maximum part and tool capacities, reduce required floorspace, extend part processing versatility and streamline automation.
Related Glossary Terms
centers


centers

Cone-shaped pins that support a workpiece by one or two ends during machining. The centers fit into holes drilled in the workpiece ends. Centers that turn with the workpiece are called "live" centers; those that do not are called "dead" centers.

computer numerical control ( CNC)


computer numerical control ( CNC)

Microprocessor-based controller dedicated to a machine tool that permits the creation or modification of parts. Programmed numerical control activates the machine's servos and spindle drives and controls the various machining operations. See DNC, direct numerical control; NC, numerical control.