December 10, 2019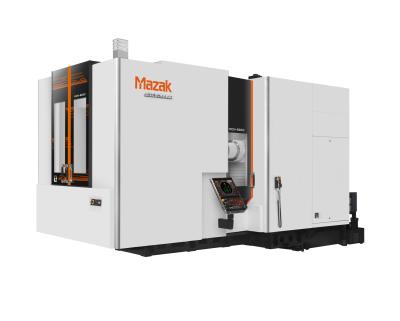 Mazak Corp.'s HCN-6800 is a heavy-duty horizontal machining center that combines advanced technology and value with a high level of performance and productivity for large-part machining. Equipped with the Mazatrol SmoothG CNC, the machine's advanced programming features and functions offer ease of use, speed and further enhanced machine performance.

The HCN-6800 has a special integral spindle/motor headstock that minimizes vibration and heat generation. It comes with a robust 50-hp, 10,000-rpm, CAT 50 spindle that delivers exceptional metal-removal capabilities in a variety of materials, from steels to nonferrous metals. Optional high-speed, high-torque and hard-metal spindles are also
available to effectively tackle a wide range of application requirements. For greater versatility and fast, efficient part processing, the cam-driven automatic toolchanger (ATC) also reduces noncut times via fast, reliable 4.2-second chip-to-chip tool change cycles.
For positioning speed, even at high feed rates, the machine's travels – measuring 41.34" in X, 35.43" in Y and 38.58" in Z – rapid traverse at 2,362 ipm per axis at 0.8G acceleration. Smooth high-gain servo and high-power AC servomotors allow for fast, vibration-free acceleration and deceleration rates.

The machine's MazatrolL SmoothG CNC makes it easy to generate programs for processing large complex parts through off-centerline machining, as well as angled drilling, milling and tapping. The CNC is key to the company's Smooth Technology platform, which spans the part-production landscape from programming and data collection to metal removal and specialized machining functions, and allows the machine to offer unmatched speed, functionality and ease of use.
The HCN-6800 comes standard with a two-pallet changer that allows an operator to load and unload parts on one pallet while the second pallet is active inside the machine. The machine's pallet size is 24.8" x 24.8" with a maximum load capacity of 3,307 lbs. The twi-pallet changer also makes it possible for the HCN-6800 to be integrated with Mazak's modular, pre-engineered Palletech system for continuous, high-volume parts production.