June 01,2015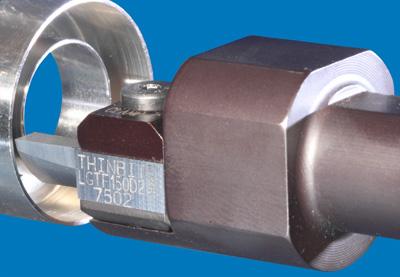 THINBIT, manufactured by Kaiser Tool Co., is pleased to announce the expansion of the GROOVE'N TURN line with right-hand, counterclockwise face grooving inserts. These new tools are designed to cut internal face grooves with major diameters starting at 0.300".
The inserts are available in 0.004" through 0.150" in 0.001" increments with sharp corner through full radius options. Major diameters are offered in 0.300", 0.750", 1.250" and 3.000". These inserts are made from sub-micron grain carbide with grades for ferrous and nonferrous materials either uncoated or with TiN, TiCN, TiAIN or diamond film coatings.
GROOVE'N TURN inserts can be used in conventional, Swiss and CNC machines. Toolholders are available in square shank sizes 5/16" through 1-¼" and round shank sizes ½" through 1" with straight and 90o presentations. The inserts fit all "L" series toolholders. Modifications can be provided on any THINBIT tooling.