November 07, 2019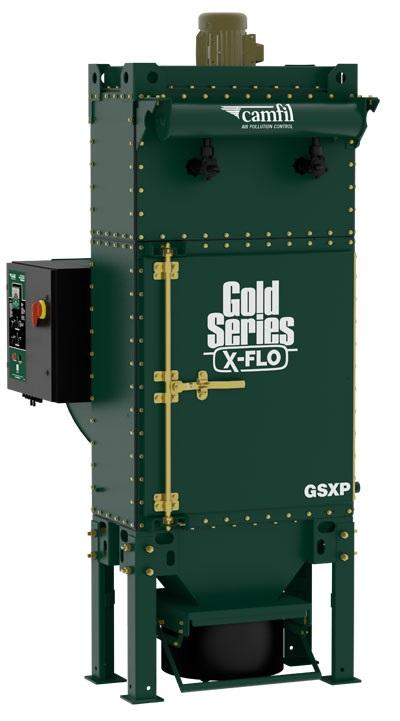 Camfil APC introduces the Gold Series X-Flo Package (GSXP) dust and fume collectors designed for fast, easy integration with CNC laser and plasma cutting systems. The GSXP collector is built on core technology that has been proven in the field for more than 20 years with the original Gold Series collector. GSXP collectors are compact, prewired and ship fully assembled, which enables users to plug them directly into the cutting line. All internal electrical connections, controls and accessories are factory installed and ready to use upon delivery.
Equipped with two, four or six HemiPleat eXtreme Gold Cone X-Flo filter cartridges, GSXP collectors can handle airflows up to 3,000 cfm, depending on application requirements. Each filter cartridge contains 375 sq. ft. of media, which provides filtration efficiencies up to MERV 15 per ASHRAE 52.2:2007. This enables operators to meet or exceed OSHA indoor air quality standards for most metal dusts. Additional HEPA modules can be added to increase the efficiency, allowing indoor air recirculation for applications with much lower permissible exposure limits (PELs).
GSXP collectors are durable, versatile and cost-efficient. GSXP units are constructed with 7- and 10- gauge steel and are powder coated inside and out for maximum durability. An integrated spark arrestor replaces the traditional inlet to reduce the chance of spark-generated fires. This spark arrestor still utilizes crossflow technology to create uniform airflow that extends filter life.
Related Glossary Terms
computer numerical control ( CNC)


computer numerical control ( CNC)

Microprocessor-based controller dedicated to a machine tool that permits the creation or modification of parts. Programmed numerical control activates the machine's servos and spindle drives and controls the various machining operations. See DNC, direct numerical control; NC, numerical control.

lapping compound( powder)


lapping compound( powder)

Light, abrasive material used for finishing a surface.