December 13, 2012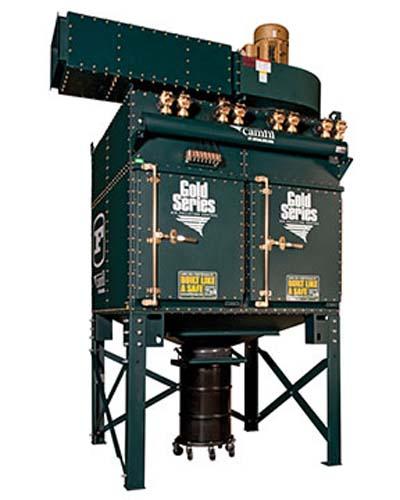 Camfil Farr APC has announced major updates to its popular line of Gold Series cartridge dust and fume collectors. The revamped line features a number of design changes and cosmetic enhancements plus an expanded menu of options to ensure a clean workplace in all types of industrial environments.
"We've made these changes to uphold our mission statement — to supply the best dust collector from an end-user and maintenance standpoint," says company president Lee Morgan.
Combining rugged modular construction with high performance and ease of service, Gold Series collectors come with a 12-year warranty and are guaranteed to meet applicable emission standards.
The redesigned Gold Series collector now has a reinforced door with double-thick hinges, easier-to-operate hardware and a single flat inside panel to create a smooth, air-tight gasketed seal. A taller inlet collar accommodates larger fans with adequate clearance, and fans are equipped with a damper actuator handle that allows the user to see from ground level whether the damper is in open or closed position. Inside the collector, the gaskets have been moved to the edges of the pan so that no dust builds up on top of the vertically mounted filters during operation. The collector also offers enhanced aesthetics, now featuring gold valves and hardware and a new "Built Like a Safe" logo featured prominently on each housing module.
The new-generation Gold Series collector incorporates an expanded list of accessories and options, many of which have also been updated. These include re-designed long-life filter cartridges available with new media choices, a wider selection of hopper configurations, new touch screen controls for energy savings and enhanced filter cleaning, integrated or remote safety monitoring filters, a high performance spark diverter inlet, and a new diaphragm silencer that reduces the noise level by 8 decibels. A wide selection of explosion protection devices are also offered for inlet and outlet explosion protection and explosion venting.
Related Glossary Terms
clearance


clearance

Space provided behind a tool's land or relief to prevent rubbing and subsequent premature deterioration of the tool. See land; relief.

flat ( screw flat)


flat ( screw flat)

Flat surface machined into the shank of a cutting tool for enhanced holding of the tool.

modular design ( modular construction)


modular design ( modular construction)

Manufacturing of a product in subassemblies that permits fast and simple replacement of defective assemblies and tailoring of the product for different purposes. See interchangeable parts.