March 12, 2012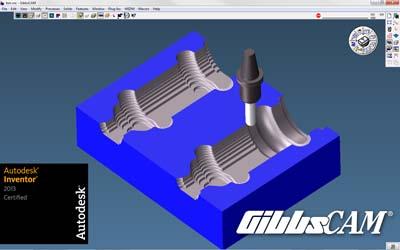 Gibbs and Associates announced that GibbsCAM has been certified for Autodesk Inventor 2013 3D mechanical design software under the Autodesk Inventor Certified Applications Program. Certification for Autodesk Inventor 2013 marks the twelfth consecutive year that GibbsCAM has been certified under the program, having achieved certification every year since the program began.
Autodesk Inventor software gives manufacturers the ability to digitally design, visualize and simulate how a product will work under real world conditions before it is built, which helps reduce cost and increase efficiency. GibbsCAM directly opens Autodesk Inventor part models, allowing CNC programmers and machinists to readily program machine tools from the models, to extend cost reduction and efficiency through the programming and machining processes. Certification demonstrates that the product is of high quality and up to date, and that it provides the highest level of interoperability with Autodesk Inventor software.
"We are pleased with Autodesk's recognition of our continued interoperability with Autodesk Inventor, which allows our joint customers to directly read models and assemblies into GibbsCAM," said Robb Weinstein, Senior Vice President of Sales and Strategic Planning of Gibbs and Associates. "Repeating our certification, year after year, provides assurance to these customers that they can continue to take advantage of the productivity they've gained from the combined products. It also assists and encourages our GibbsCAM resellers, worldwide, in providing uninterrupted support for Autodesk and its customers."
GibbsCAM offers seamless integration with Autodesk Inventor, by directly reading Autodesk Inventor IPT (part model) files, preserving all color information assigned within Inventor to provide continuity in recognizing and communicating part and feature attributes. Once machining processes are defined in GibbsCAM, they are automatically updated when the Inventor model is revised. GibbsCAM also directly reads AutoCAD DXF and DWG files, enabling use of part geometry to program machining processes.
"We are very pleased to have Gibbs and Associates renew Inventor certification for GibbsCAM," said Jim Quanci, director of the Autodesk Developer Network at Autodesk. "Their constant dedication to interoperability with Autodesk Inventor, ease of use, and support for manufacturing customers is exemplary. We are proud to have companies like Gibbs and Associates as partners in delivering flexible, easy-to-use, and extensible applications to our manufacturing customers."
GibbsCAM has an easy-to-use and simple-to-navigate interface, with language and icons familiar to programmers and machinists, allowing its users to quickly take advantage of its powerful capabilities, from minimizing the learning curve, to making manufacturing engineering tasks and production machining extremely intuitive and efficient. GibbsCAM provides the capability to program the most complex machining processes, and the flexibility to allow user-preferred approaches to machining, with options that are logical to programmers.
GibbsCAM's full associativity of geometry, processes and toolpaths easily accommodates updates to Autodesk Inventor part geometry and process parameters. CNC programmers can quickly optimize parts for machining and program machine tools to make the parts, whether they have simple geometry needing only 2-axis turning or 2.5-axis milling, or complex geometry requiring the latest 5-axis machining centers, MTMs or Swiss-style turning centers. GibbsCAM verifies toolpaths with gouge detection and interference checking, and enables additional testing and prove-out with a dynamic display of all moving components of a machine tool as it makes a part. These, and many other features of GibbsCAM help manufacturers eliminate scrap, reduce cycle times, and maximize efficiency, safety and profits.
In addition to its perennial certification of GibbsCAM for Autodesk Inventor, Gibbs and Associates is an authorized member of the Autodesk Developer Network and is an Autodesk Authorized Independent Software Vendor.