November 13, 2018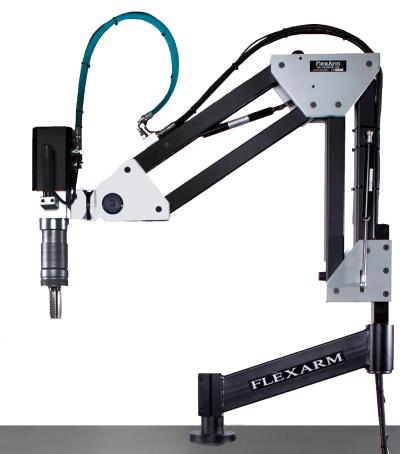 FlexArm Inc. introduces the GH-60 hydraulic tapping arm with capacity to 2 inches, even in laser cut holes. This versatile, robust design has a reach from 20 to 85" and operates at 55 or 275 rpm to deliver torque up to 811 ft./lbs.
Full 360-degree movement allows operators to easily position taps with guaranteed perpendicularity. Operates from 480 V power source to provide tapping capacities from ½ to 2-inches. Five quick-change tap holders, and semi-tap lubrication are included with each tapping arm purchase. With fast setup times and significantly reduced tap breakage, FlexArm GH-60 tapping arms are an ideal alternative to tapping large diameter holes manually, or via CNC, even laser cut holes – with no reaming or preparation required.
Optional digital depth control allows operators to control depth and maintain consistency, simplifying quality control. An optional multiple-position head allows operators to quickly change from vertical to horizontal tapping.
FlexArm provides a more efficient way to tap holes. They allow machining centers to do what they do best – milling, drilling and boring. When operators load a machining center and start its cycle, they can use that cycle time to tap previously machined parts with the FlexArm – yielding more productivity per shift.
Tap breakage rates are significantly reduced with the FlexArm due to its purpose-centered approach. With a tap breakage rate of one per 3,000 holes, versus one per 300 holes on a CNC, FlexArm tapping arms can significantly reduce setup time, cost and scrap rates.
In addition to the GH-60 model detailed above, other hydraulic and pneumatic versions of the FlexArm are available to suit varied tapping requirements. Engineers are available to discuss unique project parameters and offer solutions based on decades of experience. A 30-day free trial period allows FlexArm products to be proven in-plant under actual production conditions.