August 14, 2019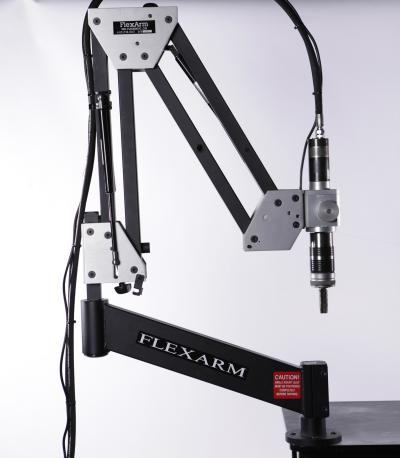 FlexArm Inc. introduces the GH-45 hydraulic tapping arm with capacity to 1 1/2 inches in mild steel, allowing operators to quickly and consistently tap holes offline for greater overall productivity. This versatile, robust design has a reach from 20 to 78" and operates at variable speed from 110 to 500 rpm to deliver torque up to 325 ft./lbs.
Full 360-degree movement allows operators to easily position taps with guaranteed perpendicularity. The GH-45 operates from 480V power source and includes five quick-change tap holders, and semi-automatic tap lubrication. With fast setup times and significantly reduced tap breakage, FlexArm GH-45 tapping arms are a suitable alternative to tapping holes manually or via CNC.
Optional digital depth control allows operators to control depth and maintain consistency, simplifying quality control. An optional multiple-position head allows operators to quickly change from vertical to horizontal tapping, while also being able to tap at any angle in between.
FlexArm provides a more efficient way to tap holes. They allow machining centers to do what they do best – milling, drilling and boring. When operators load a machining center and start its cycle, they can use that cycle time to tap previously machined parts with the FlexArm, yielding more productivity per shift.
Tap breakage rates are significantly reduced with the FlexArm due to its purpose-centered approach. With a tap breakage rate of 1 per 3,000 holes versus 1 per 300 holes on a CNC, FlexArm tapping arms can significantly reduce setup time, cost and scrap rates.