March 20,2018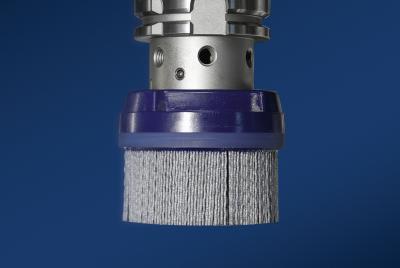 The new GARANT disc brushes from the Hoffmann Group are designed to boost efficiency and enhance precision during the finishing process. These high-tech brushes are suitable for direct application in a CNC machine or a robot cell, providing an automated way of finishing workpieces immediately after the machining process – with reproducible, reliable results. That means less time spent on setup and improved throughput.
The Hoffmann Group has designed its new GARANT disc brushes for precise deburring, edge filleting and surface finishing of milled, flat precision parts. Applied immediately after the machining process, they reliably remove unwanted burrs and fine milling marks. The tools are also suitable for precisely brushing down workpieces that have been produced using a sintering, punching, die casting or pressing process, and for creating smooth surfaces.
With GARANT disc brushes, even finishing valve plates with internal labyrinths is reportedly a breeze. And thanks to their maximum-density yet flexible bristles, they are able to deburr complex components without manipulating their shape. The nylon bristles, which are firmly cast in place and impregnated with abrasive grit, will not break off even at high speeds and produce a strong, consistent brushing effect due to the high proportion of abrasive grit they contain. That means burr-free, smoothly ground surfaces plus an exceptionally long service life and controllable wear behavior.
GARANT disc brushes are particularly well suited to wet machining and are compatible with all measuring head and combination face mill adapters. If required, the Hoffmann Group can also provide customers with disc brushes adapted specifically to suit their needs. The existing range of GARANT disc brushes will soon be expanded to include circular brushes for deburring work on outer surfaces.