March 04, 2019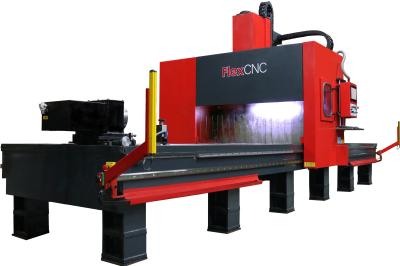 FlexCNC introduces G-Series vertical machining centers for facemilling, helical milling, rough milling and drilling of large or long parts in a single setup. The standard edition Model 20-06 SE boasts a 20-foot by 6-foot bed to machine parts up to 20-feet in length.
Alternately, the long open bed, coupled with the movable safety light curtain, allows multiple setups, so that while the 20-06 SE is machining one part, another can be loaded (or offloaded). This dramatically increases productivity of the machine's uptime. The open design provides unrestricted access which makes loading and unloading easier and faster. FlexCNC machines are for machining long products like tube or pipe, and cutting keyways.
The 20-06 SE features a monoblock welded steel frame with high rigidity and a T-slot machine bed. Spindle taper of CT 40, at 6,000 rpm, with a maximum torque capability of 74 ft/lbs. (with 18-hp upgrade). This product line features maximum travel rate of 1,200 in/min along the X-axis, 1,000 in/min along the Y-axis and 165 in/min along the Z-axis. Z-Axis travel is 19.5" max. Spindle nose to table distance from 5.5" to 25.0".
Standard unit runs on 480V and includes mobile light-curtain safety barriers, frame with chip conveyor and T-slotted table, flood coolant pump and tank, and automatic tool calibrator. The 12" color touch screen is water-resistant and durable enough to provide years of service. Oversized double hung precision linear guideways ensure smooth and precise movement on all axes. All moving parts are self-lubricating on all axes. A programmable servomotor drives the spindle, while a 10-compartment automatic toolchanger ensures capacity for virtually any application.
Control on the FlexCNC is simple yet powerful, with conversational and ISO G- and M-code programming for versatile 3-axis CNC machining along with an optional 4th axis. It is equipped with a color touch screen control, 40 GB of program storage and 50 programmable zero points. Programs can be loaded through USB or through and ethernet connection. Extensive training is provided, both in-plant and on-site.
Built in the Wapakoneta, Ohio, factory, the G-series 20-06 SE sells for $258,995. Leadtime for these standard machines is 12-16 weeks. Delivery, installation, training and two-year warranty available for $9,500. In addition to standard models, FlexCNC can customize a machine to suit specific parameters, including length and width, raised gantry, open machine bed, and double fourth axis.