March 01,2015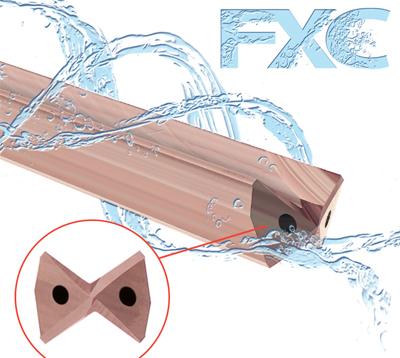 Precision Cutting Tools' FXC Series, solid-carbide, straight-flute drills are engineered for drilling aluminum alloys and gray cast iron. The drills are ideal for the automotive and aerospace industries and for operations that require tight-tolerance holes, according to the company.
The tools feature a total of four margins for increased stability and accuracy. The drills can achieve higher speeds and feeds than standard twist drills, reducing cycle times.
In addition, the combination of coolant-hole geometry and a 130º point enables efficient chip evacuation resulting in a smooth surface finish on the part, the company says. All FXC drills are PVD coated with ZircoPlus for a longer tool life. The drills are made-to-order within a 5-7 day lead time and are available in sizes ranging from 5 to 16 diameters deep.
Related Glossary Terms
alloys


alloys

Substances having metallic properties and being composed of two or more chemical elements of which at least one is a metal.

aluminum alloys


aluminum alloys

Aluminum containing specified quantities of alloying elements added to obtain the necessary mechanical and physical properties. Aluminum alloys are divided into two categories: wrought compositions and casting compositions. Some compositions may contain up to 10 alloying elements, but only one or two are the main alloying elements, such as copper, manganese, silicon, magnesium, zinc or tin.

physical vapor deposition ( PVD)


physical vapor deposition ( PVD)

Tool-coating process performed at low temperature (500° C), compared to chemical vapor deposition (1,000° C). Employs electric field to generate necessary heat for depositing coating on a tool's surface. See CVD, chemical vapor deposition.