May 21, 2019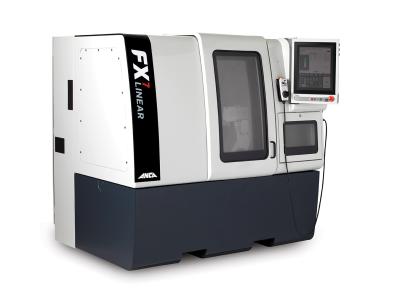 For customers that require increased flexibility or more spindle power, or the increased automation capacity that a robot can provide, the FX7 Linear from ANCA offers these. The FX7 Linear offers a wide range of options for those looking to increase productivity and accuracy. Available as an option is the AR300 robot loader to increase efficiency by automating repetitive manual tasks.
Features include:
Linear motors on X and Y axes

AM5000 control system for faster processing

HSK40 taper provides increased rigidity and accuracy for improved tool surface finish results
Demand for industrial robots, one facet of Industry 4.0 is booming, as manufacturers chase productivity gains and the availability of effective, user-friendly options increases. According to the 2018 World Robotics Report, annual unit sales increased 30% in 2017 and have more than doubled over the last five years.
Russell Riddiford, president of ANCA Machine Tools said: "With a large percentage of ANCA customers buying machines with robotic functionality, it's fair to say the age of the robots has come. Far from a nice-to-have add on, many CNC machines now come with operator panels that provide in-built control over both the grinding software and the robotics function, opening the door to greater automation efficiencies."
"At ANCA we provide a complete solution to our customers, designing and manufacturing almost all our technology in-house. As part of this, we developed our own low-cost solution for tool loading," Russell concluded.
The 3-axes ANCA robot has a capacity of 380 tools and accommodates tool sizes up to Ø20mm (3/4") x 150mm (6") long. The AR300 loader is contained within the compact FX Linear machine footprint, so there is no need for extra floor space. In addition, there is no need to change gripper fingers between batches, which further maximizes productivity.
Utilizing the latest control technology from ANCA Motion, the AR300 loader is an excellent value-for-money auto tool loading solution for the FX5 Linear and FX7 Linear two-wheel changer machines. The loader provides quick tool loading, as the tool is passed directly from the pallet to the collet in a single gripping action.