April 13, 2022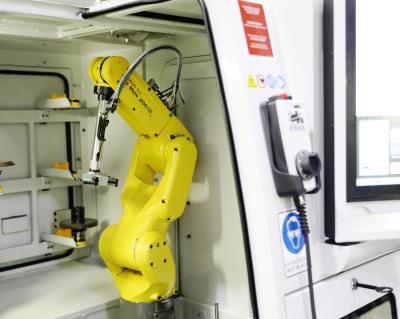 FX Linear medical drill application supports tool loading for delicate dental drills.
The global dental drills and burrs market is expected to display annual growth rate of approximately 6.5%. While the market is fragmented experts say that oral disease is increasing and is affecting half of the world's population. A growing number of dental schools and dentists in developed countries is a key driver for accelerating growth in this segment.
A dental drill is popularly known as a dentist's drill. While a source of anxiety for many, dental drills are used routinely to perform common dental procedures, like removing decay and are usually fitted to a hand-held mechanical instrument. The hand-held device works at high speeds using dental drills or burrs.
International Standards are defined for all dental rotary instruments, and each instrument is assigned a distinct ISO number code. Most common are HP Shank (ISO104) and RA Shank (ISO204 & 209) with a shank size of Ø 2.35mm.
Due to an increasing demand to grind Ø2.35mm shank medical drills, ANCA has created a special tool loading solution for FX Linear machines to address this need. Many medical drills have a short shank length with a head larger than 2.35mm.
ANCA has designed a special dental drill loading kit including tailored RoboMate pallets for FX machines using a Fanuc 200iD robot loader. The pallet top allows a reduction of the insertion depth of the shank with an 8mm pocket depth, so that drills with only 10mm of available shank length can be loaded. The robot grippers have also been modified for the reduced thickness of medical tools. The medical gripper can accommodate Ø2-10mm x 100mm with a maximum head diameter of 14mm.
Medical instruments are typically manufactured from stainless medical grade alloy, so handling can be sensitive. The small medical drill kit also includes adjustable pressure setting from 1.5bar to 5bar for tool clamping to prevent damage from tool loading, with the pressure adjustable via the RoboMate program.
The medical drill package for FX Linear machines is growing in popularity with orders steadily increasing since 2018.
ANCA CNC tool grinders are well suited to grind a vast array of medical instruments. ToolRoom software includes tool design applications for a diverse range of round tools and burrs. Available technologies like white-sticking, in-machine wheel balancing and micro adjustable tool steadies, add to ANCA's solutions for supporting diverse applications.
Related Glossary Terms
computer numerical control ( CNC)


computer numerical control ( CNC)

Microprocessor-based controller dedicated to a machine tool that permits the creation or modification of parts. Programmed numerical control activates the machine's servos and spindle drives and controls the various machining operations. See DNC, direct numerical control; NC, numerical control.

shank


shank

Main body of a tool; the portion of a drill or similar end-held tool that fits into a collet, chuck or similar mounting device.