July 01, 2015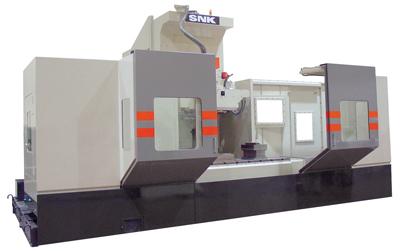 Vertical 5-Axis machining centers have traditionally come with high price tags. Enter the FSP-80V from SNK America Inc. This compact machine is a viable alternative for a variety of industries requiring complex simultaneous 5-Axis contouring of difficult-to-cut materials. It's the preferred choice of machining professionals in a wide range of industries.
The FSP-80V incorporates all of the design and construction features required for the most demanding machining operations. The super-rigid box-frame spindle head houses a dual face spindle driven by a powerful 30HP motor that generates 1,407 Nm of torque. The A and B rotary axes employ a highly rigid double-pinion drive system that ensures stable, continuous 5-axis machining even under the most demanding loads. These features enable the FSP-80V to deliver the consistent, superb accuracies that vertical style machines are renowned for, without the high price.
Table size (W x L) is 31.5"x 78.7" with a maximum table load capacity of 8,800 lbs. Turcite slide ways ensure accurate machining of difficult-to-cut materials by greatly reducing cutting vibration. Travels (X, Y, Z) are 90.5" x 33.4" x 27.5". Spindle swivels (A, B) are ±30Ì¢åÅå¡.
The FSP-80V employs a Fanuc 31i-A5 CNC loaded with control features that simplify even the most complex contouring operations while delivering superb workpiece finishes.
Chip conveyors at both sides of the table ensure efficient chip evacuation. A 40 tool high efficiency ATC system (60, 80 optional) shortens cycle times for increased production.
Other optional features include air blow device, through spindle coolant, large capacity coolant tanks, splash guard and spindle overload prevention function.
Related Glossary Terms
centers


centers

Cone-shaped pins that support a workpiece by one or two ends during machining. The centers fit into holes drilled in the workpiece ends. Centers that turn with the workpiece are called "live" centers; those that do not are called "dead" centers.

computer numerical control ( CNC)


computer numerical control ( CNC)

Microprocessor-based controller dedicated to a machine tool that permits the creation or modification of parts. Programmed numerical control activates the machine's servos and spindle drives and controls the various machining operations. See DNC, direct numerical control; NC, numerical control.

coolant


coolant

Fluid that reduces temperature buildup at the tool/workpiece interface during machining. Normally takes the form of a liquid such as soluble or chemical mixtures (semisynthetic, synthetic) but can be pressurized air or other gas. Because of water's ability to absorb great quantities of heat, it is widely used as a coolant and vehicle for various cutting compounds, with the water-to-compound ratio varying with the machining task. See cutting fluid; semisynthetic cutting fluid; soluble-oil cutting fluid; synthetic cutting fluid.