March 01, 2014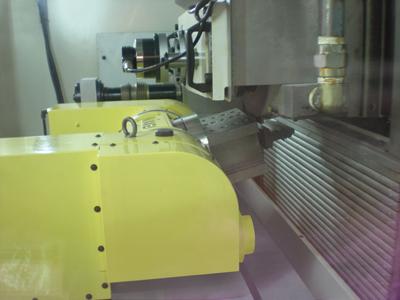 "The FSG-C1224CNC profile grinder is designed to meet such grinding requirements as intricate profiles and mold components, and are well suited for the aircraft, automobile, electronic, medical, machine tool and defense industries," says Chevalier Vice President Johnson Lan.
The single-piece base casting offers superior rigidity and extends longevity. Column and wheelhead traverse structure are on precision roller bearings. Hardened and ground guideways are pre-loaded and driven by a precision ballscrew that insure excellent rigidity and precise positioning. Crossfeed and elevating axes are positioned by precision ballscrews with an AC servomotor providing superior accuracy. The elevating encoder device is mounted on the top of the elevating ballscrew, acting with clutch; it can directly encode the downfeed amount, thus eliminating error. The machine's column is driven by precision ballscrew and has a FANUC AC servo control system that provides precise in/out movement. The floor space is 158" x 116" x 105" with a machine weight of approximately 19,800 lbs.
The table size is 12" x 24", which includes a maximum grinding length of 24" and width of 12". The maximum distance from the table surface to spindle center line is 24", and the maximum table load is 920 lbs. with a XZ travel of 32" x 16".
Supported by six super precision angular contact bearings, the spindle can perform heavy-duty grinding loads. The spindle is air-cooled to minimize temperature increase and ensure spindle accuracy. The grinding spindle speed is from 500~3500rpm range with an AC servo power rating of 30HP available and a standard grinding wheel of 14" diameter, 3" wide and a 5" bore.
The standard FANUC 0iMD control provides full automation through programming in order to grind multi-shaped workpieces and complete the entire grinding processes from rapid approaching, rough grinding, wheel dressing with auto compensation and fine grinding in one fully-automatic cycle. The control panel has an 8.4" TFT color LCD screen that can display the grinding position and program execution status and allow the operator to monitor the grinding operation. Indicating LEDS show main power, machine zero, end of program, magnetic chuck voltage, dressing, lubrication conditions are all shown by indicating LEDs, not only dust proof and waterproof but also offers maintenance free features.
Standard accessories include tools, touch-up paint and toolbox, coolant nozzle, diamond dresser and diamond, wheel flange, balancing arbor, leveling screws and pads and a totally enclosed splash guard.
Chevalier Machinery will provide set-up and training at no charge for up to two operators at the customer's facility for complete familiarization with this machines functions. This includes general machine usage as well as entering programs. Our modern warehouse facility in the Los Angeles area maintains a comprehensive inventory of parts for all machines sold in the United States.