January 01,2011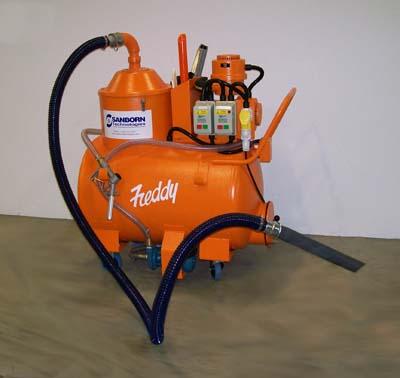 The Freddy Ecovac 200 from Sanborn Technologies is a versatile sump cleaner that can provide both suction and discharge of fluids at the same time. This dual action allows for solids and chips to be vacuumed from a sump while dispensing clean fluid back to the tool to wash down the table and ways. This cleaning process can be completed without taking the machine tool out of service.
The Ecovac has several unique features that differentiate it from other sump cleaning devices including the unit operates on 110 volt power that and can be easily plugged in throughout a plant. The unit will also suck a sump dry and can remove a puddle of liquid from a floor. This allows the unit to also function for emergency spill control.
The unit includes a convenient 50 gallon storage tank that is lightweight and easy to move around a shop because of its ergonomic design, small size, and heavy duty locking caster wheels. The Ecovac ships complete with a 10 and 200µm filter bag, 3 crevice attachments, a large chip extraction tool, a floor vacuum squeegee and 10 foot suction hose.