December 01, 2021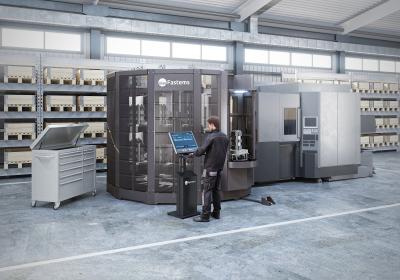 Fastems LLC has announced the launch of their Flexible Pallet Tower (FPT), the most compact pallet automation solution for a single CNC milling machine with 300 to 630 mm pallets. FPT integrates with any machine with a wide library of ready-made machine tool interfaces and multiplies the machine tool utilization up by cutting down setup times and enabling lights-out manufacturing. The plug-and-play automation system also shortens the lead times and allows for higher part mix with smaller unit costs, no matter the production batch sizes.
Compared to other similar systems in the market, Fastems FPT is compatible with any machine tool brand, and it integrates with milling machines whether or not they have automatic pallet changers. In addition, the system footprint is extremely compact: FPT-500 for 300-500mm pallets requires only 100 square feet, and FPT-1000 for 500-630mm pallets requires 175 square feet. Instead of having a fixed storage, like most of the comparable units, FPT can work with different load heights and pallet sizes with a configurable pallet storage that can store up to 24 pallets in two to four levels.
The first FPT-500 for 300-500mm pallets will be delivered to the first customer in February 2022, and the FPT-1000 for 500-630mm will launch in late spring of 2022. These solutions can be delivered within 16 weeks of order placement. The FPT completes the Fastems pallet automation offering for smaller pallets and even tightest shopfloor fitment requirements.
FPT is controlled by the completely new version of Fastems Manufacturing Management Software (MMS). MMS offers a single-view user interface with drag-and-drop production scheduling and allows bringing new workpieces into the system in under 60 seconds. The system automatically tracks and reports the key performance indicators in real time. With the plug-and-play installation and fast to learn use, FPT brings immediate automation benefits to the shop floor. Fastems CEO Mikko Nyman shared, "With this solution we can serve also the customers looking for affordable automation for smaller milling machines, both with and without the automatic pallet changers. With the compact footprint and the configurable pallet storage, FPT really fits for all kinds of manufacturers. With the new, simplified MMS user interface and the ergonomic workpiece loading station we can bring a whole new level of ergonomics to the operators."