February 15, 2018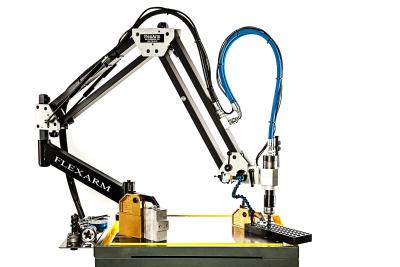 FlexArm Inc. introduces a mobile tapping package which yields mobility, productivity and efficiency by allowing operators to tap holes offline while the machining center works on the next part. This comprehensive package includes the FlexArm GH-18-1 tapping arm with a tap capacity of #6 to 5/8", a reach from 17"-72", variable speed from 100-420 rpm, 360-degree movement, and a semiautomatic tap lubricator.
Additionally, with a caster cart, power pack, tap stand and five tap holders, this hydraulic tool can be used wherever there is 110V available – with no air needed. With fast set up times and significantly reduced tap breakage, FlexArm tapping arms are an alternative to tapping holes manually or via CNC.
FlexArm provides a more efficient way to tap holes. They allow machining centers to do what they do best – milling, drilling and boring. When operators load a machining center and start its cycle, they can use that cycle time to tap previously machined parts with the FlexArm – yielding more productivity per shift. Tap breakage rates are significantly reduced with the FlexArm due to its purpose-centered approach. With a tap breakage rate of 1 per 3,000 holes versus 1 per 300 holes on a CNC, FlexArm tapping arms can significantly reduce setup time, cost and scrap rates.
In addition to the GH-18-1 model detailed above, other hydraulic and pneumatic versions of the FlexArm are available to suit varied tapping requirements. Engineers are available to discuss unique project parameters and offer solutions based on decades of experience. A 30-day free trial period allows FlexArm products to be proven in-plant under actual production conditions. They stock an extensive array of tap holders and repair parts in their Wapakoneta factory, for fast shipment, often same-day.