April 30, 2018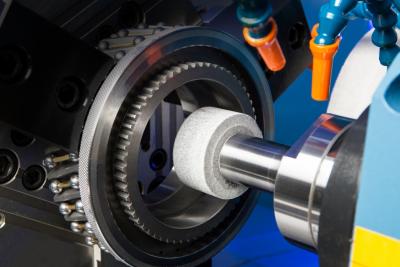 The Junker Group has extended its range of grinding machines: With its new Zema corundum line, the company offers efficient solutions for conventional grinding. Versatile, robust, durable – Junker corundum grinding machines fulfill the requirements of series production for a wide range of different workpieces. The CNC grinding machines grind elements such as flanges and journals on crankshafts, as well as gear, turbocharger and cardan shafts or spray nozzles. In total, the corundum line comprises three models, each of which has different focal points.
The Numerika is designed for the series production of a variety of different workpieces – up to a length of 3.50 meters in the biggest model. The cylindrical grinding machine Kargo takes ultraheavy workpieces, such as shafts for generators or electric motors with weights of up to 6 tons easily in its stride. Rounding off the range are the Flexa corundum grinding machines, which are capable of solving up to three grinding assignments. Whether internal or external grinding and even thread grinding: The modular design of the robust Flexa series makes it suitable for small and medium-sized production runs.
Whether precision parts for vehicle engines or heavy shafts and axles, the machines of the corundum line come with a robust machine bed, hydrostatic guides and grinding spindles mounted on rolling or hydrostatic bearings as standard. A user-friendly control system comes with all the necessary input masks for precision corundum grinding and excellent surface quality.
Designed for integration into production lines, the corundum grinding machines also come with a high level of automation. At the same time, they offer the flexibility needed for grinding workpiece families. Several types of a workpiece family can be stored in the control system, allowing a quick changeover from one workpiece to another in production. To ensure a trouble-free production sequence, the corundum grinding machines are also equipped with automatic loading and unloading systems.
Combining the different types in a single production line from one provider has a range of benefits to offer: Junker customers receive more than simply a grinding machine. The company's performance promise includes installation of the machine as well as grinding processes ready adjusted to the customer's production requirements. Junker also offers a wide range of services before, during and after machine commissioning.