December 10, 2019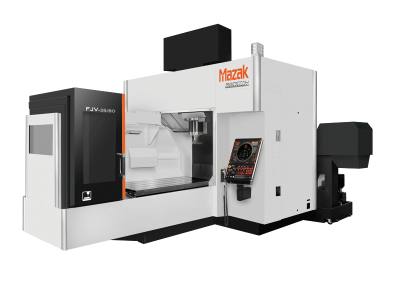 The high-speed Mazak FJV-35/80 double-column vertical machining center offers high precision over extended periods of operation with enhanced performance, Intelligent Functions and rigid machine construction. Suitable for a wide range of industries, including aerospace, construction, die and mold, and heavy machine, the versatile FJV-35/80 accommodates up to 6,614 lbs. on a 88.19" x 29.53" work table.
The special design of this vertical machining center eliminates the spindle overhang often incorporated in C-frame vertical machining centers, ensuring extremely precise machining over extended periods of operation. Furthermore, the machine's ergonomics and space-saving design ensure convenient loading/unloading of large workpieces and overall ease of operation.
Mazak can equip the FJV-35/80 with a powerful 50-taper, 50-hp, 10,000-rpm integrated spindle that generates up to 433 ft.-lbs. of torque for heavy-duty cutting of large cast iron, steel and aluminum workpieces. Options include a 7,000-rpm high-torque spindle for heavy-duty machining of steel or cast iron material, along with a high-speed 18,000-rpm, CAT 40 spindle for enhanced efficiency with aluminum and other nonferrous materials. A completely covered machining area keeps chips contained for easier cleanup and workplace safety.
Extensive X/Y/Z machine axis travels of 78.74", 31.50" and 25.98", along with rapid traverse speeds of 1,574 ipm (X and Y) and 1,181 ipm (Z), allow the FJV-35/80 to maneuver quickly around large workpieces for significantly shorter part-processing times. A 30-tool magazine helps reduce setup time while it enables redundant tooling and unattended, uninterrupted production.
The FJV-35/80's MAZATROL SmoothG CNC control makes it easy to generate programs for processing complex parts through off-centerline machining, as well as angled drilling, milling and tapping with effortless programming in EIA/ISO or MAZATROL conversational language. The control also incorporates a wide variety of advanced programming functions for complete ease of use and high-speed, high-accuracy machining performance.