April 29, 2020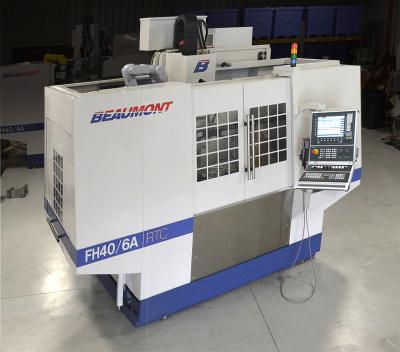 Beaumont Machine, located in Southwest Ohio, has updated its core fast-hole EDM machine, the FH40, with added features, including a faster response time.
According to company President Ed Beaumont, "Fast-Hole EDM has changed in the past five years from primarily producing cooling holes to the needs on shapes and diffusers. The additional need for a lower recast and virtually no microcracking has become the standard in aerospace. As a result, Beaumont Machine has been working on answers for our customers, focusing on the ability to work Realtime with our power supply to control interconnection and closed-loop features. Doing so aids in delivering a better overall quality for our process. Other features that improve with the Reaaltime process such as micro-pulse technology, breakthrough hole-start technology and blind hole drilling all benefit from this better interconnection between the power supply and control."
This new design has been incorporated in the company's mainstay fast hole machine, the FH40. Additional features of this machine include:
Offsite Diagnostics via analog or digital inputs
16 Axes capability
Rotary Table Accuracy 3 to 5 arc seconds
Axis accuracy and Squareness .0004"
Repeatability .0002"
Electrode capability 24"
Electrode diameter .012" - .25"
Rapid Speed 400 ipm X,Y,Z 200 ipm W
Drive Resolution, Absolute Encoders
Spindle Speed 3000 RPM
X, Y, Z axis travel in X up to 60"
Output Amperage 65 amps continuous
Amperage Settings 1 amp increments
Capacitance range 0 - 8.95
Filtration System 150 gallon DI System
Siemens Sinumerik 840D CNC
Fanuc 31i
Related Glossary Terms
computer numerical control ( CNC)


computer numerical control ( CNC)

Microprocessor-based controller dedicated to a machine tool that permits the creation or modification of parts. Programmed numerical control activates the machine's servos and spindle drives and controls the various machining operations. See DNC, direct numerical control; NC, numerical control.

electrical-discharge machining ( EDM)


electrical-discharge machining ( EDM)

Process that vaporizes conductive materials by controlled application of pulsed electrical current that flows between a workpiece and electrode (tool) in a dielectric fluid. Permits machining shapes to tight accuracies without the internal stresses conventional machining often generates. Useful in diemaking.

inches per minute ( ipm)


inches per minute ( ipm)

Value that refers to how far the workpiece or cutter advances linearly in 1 minute, defined as: ipm = ipt 5 number of effective teeth 5 rpm. Also known as the table feed or machine feed.