April 01,2011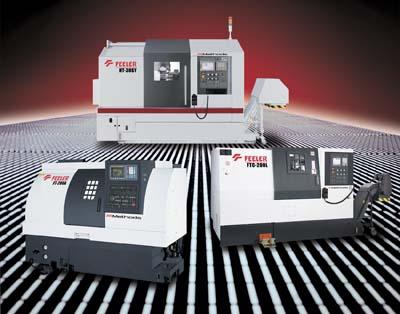 Methods Machine Tools Inc. has introduced FEELER Milling Lathes and Turning Centers featuring extensive design and engineering by Methods. FEELER Lathes and Turning Centers are backed by Methods' application expertise, support, and extensive network of technology centers. The Methods-FEELER CNC Lathes and Turning Centers include the HT-Series, FTC-Series and FT-Series.
"To meet our customers' unique requirements, Methods has incorporated several different designs and options in the new FEELER milling lathes and turning centers," said Mr. Paul Hurtig, FEELER Product Manager, Methods Machine Tools.
The FEELER HT-Series High Performance Milling Lathes are offered in three configurations including an HT-30MC power milling turret machine, an HT-30Y model with a power milling turret and Y-axis and an HT-30SY machine featuring a power milling turret, Y-axis and a sub-spindle Each HT-Series lathe features a 3,500 rpm, 30 HP spindle with chuck diameter of 10". The HT-30SY also offers a 6,000 rpm, 15 HP sub-spindle with a 6" (170mm) chuck diameter and a bar capacity of 1.7" (44mm). X-Axis travel is 7" + 3.2" (178mm + 82mm) and Z-Axis travel is 31.3" (795mm) in each of the HT-Series machines. The HT-30Y and HR-30SY machines also offer a Y-Axis travel of 3.9". The HT-Series features a 30 degree slant bed with hand scraped slideway surfaces. Maximum turning diameter is 14" (356mm) and maximum turning length is 27.75" (705mm). A 12-position power turret with milling capability and FANUC 18i-TB control are standard.