April 01, 2010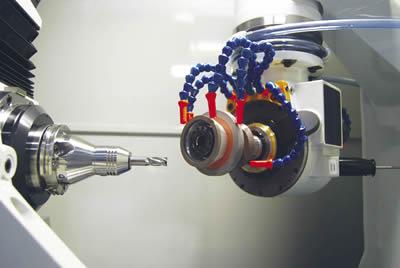 The FastGrind CNC tool and cutter grinder from ANCA Inc. is for resharpening tools from 0.35mm to 12mm in diameter. The $120,000 machine uses a double-ended HSK 40 wheel spindle to enhance flexibility and reduce setup time, according to the company. The maximum wheel diameter is 8". A part probing system is standard. Ballscrews drive the linear axes and the two rotary axes are direct-driven. All axis saddles are made from a single-piece casting to enhance rigidity and reduce vibration, according to the company.
Related Glossary Terms
computer numerical control ( CNC)


computer numerical control ( CNC)

Microprocessor-based controller dedicated to a machine tool that permits the creation or modification of parts. Programmed numerical control activates the machine's servos and spindle drives and controls the various machining operations. See DNC, direct numerical control; NC, numerical control.