July 01, 2011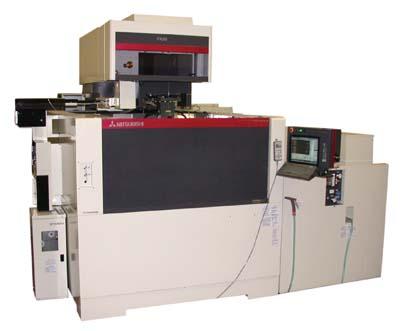 MC Machinery Systems Inc. introduces its newest FA30V Advance wire EDM for large-part manufacturers. The FA30V Advance uses a new inserted AT design and 16.5 inches of Z-axis travel, a maximum Z height of 26.5 inches can be achieved. The machine delivers another full inch of travel in the U/V, compared with previous models, at ±4 inches. This provides steeper taper angle capabilities.
The machine incorporates Mitsubishi's new advance CNC M700 series control with a 15-inch touch screen monitor for easy user interface and optimal programming functions. SL (Step Less) Control helps improve the accuracy when finishing stepped-shaped workpieces. Power Master (PM) Control enables full automation from rough to finish machining and makes machining multiple parts with varying thicknesses and shapes faster and easier, saving up to 50 percent machining time over previous models.
The ultra high-speed V500 power supply produces a fast machining speed at 47 square inches per hour, greatly improving machining performance for difficult-to-cut materials, such as titanium alloy or heat-resistant high-nickel alloys. Automatic wire threading (AT) provides high-speed auto-threading for productivity improvements. The AT unit combines a high-performance load detection sensor and quick retry function, which provides many hours of unattended operation. Other features of the FA30V Advance include a stainless steel work tank, and virtually maintenance-free stainless steel seal plate.