November 27, 2018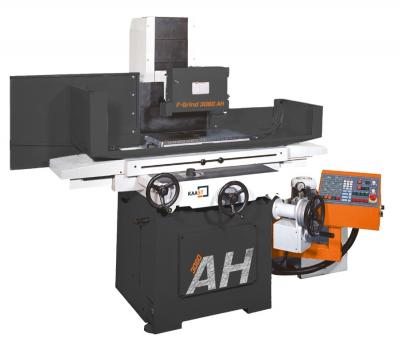 KAAST Machine Tools offer the saddle-style F-Grind AH series high-precision surface grinder. Featuring hardened, ground and PTFE (polytetrafluoroethylene) coated table guideways, this grinder series offers full stress relieved main parts to enhance rigidity, stability and grinding accuracy. Customers can add the optional AD5 auto down feed system to become three axes fully automated, thereby greatly increasing operational convenience.
The AH series standard configuration includes a double V guide for transverse and combined flat and V guides for the longitudinal movements. These grinders also incorporate rapid traverse to working height and magnetization of the table. The F-Grind AH machines can accommodate workpieces ranging from 5.8 x 17.5" to 15.5 x 31" dependent on the model selected.
The spindle motors are available with up to 7.5 horsepower and offer spindle speeds up to 2,900 rpm. The spindle runs in a class P4 high precision angular contact bearing, assuring runout accuracy better than 2 μm. The cartridge-type spindle is completely sealed and lubricated for long working lifetime, providing high accuracy grinding and a long service life. The vertical feed moves in 0.01 mm (0.0004") increments. The optional AD5 NC Control decreases these vertical feed increments to 0.005 mm (0.0002"). The transverse feed works in 0.02 mm (0.0008") increments. Auto down-feed from 0.001 – 0.999 mm (0.00004" – 0.04") helps to ensure a smooth finish at the end of the job.