March 18, 2016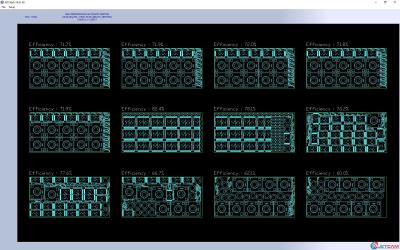 JETCAM announced the launch of Version 19 of its Expert CADCAM and nesting software, featuring several major new features and hundreds of improvements across the software. Several features focus around nesting. Multi-sheet nesting takes advantage of JETCAM's powerful high-performance nesting module to nest parts across multiple sheets at a time, drastically improving overall material efficiency while taking less time to generate the nests. Both the standard free form and high-performance nesters can also nest punching parts to be common cut, again improving material efficiency and reducing machine runtime. Automatic turret nesting works across all of JETCAM's nesting modules to take the turret loading into consideration when nesting, ensuring that nests are always able to run on the machine based on the loaded tools.
There have been dozens of advancements in JETCAM's new user interface, with the most notable relating to importing of CAD files and orders. Users can drag and drop a CAD file such as a DXF or other supported file directly onto the main component screen. In the orders lists users can also drag and drop one or more JETCAM component file for ordering. In-grid editing allows quick modification of quantities if required, or alternatively the user can specify a single quantity for all during importing.
Automatic Generic Sucker Placement can now be applied during the automatic tooling process. This functionality is used to specify the pickup location on the part for machines that have a robot unloading device.
V19 includes hundreds of other enhancements within the core product, additional modules and postprocessors. Nine new postprocessors were also added, covering Mazak, Messer Griesheim, Sonderhoff, Komo, Pierce, Vector, Accumax, Umbra and Dardi CNC machines. The update is available free of charge to customers with a current maintenance contact.
Said Martin Bailey, general manager for JETCAM International s.a.r.l.; "This release provides a potent mix of complementary technologies that work in harmony with our nesting modules to deliver even more material efficiency and automation. When you combine features such as multi-sheet nesting and common punching with our already advanced nesting algorithms they can quickly yield significant savings. With each new release we'll build on the videos within the University to provide a visual resource of learning material to help get customers up to speed on new features as they become available."
Related Glossary Terms
computer numerical control ( CNC)


computer numerical control ( CNC)

Microprocessor-based controller dedicated to a machine tool that permits the creation or modification of parts. Programmed numerical control activates the machine's servos and spindle drives and controls the various machining operations. See DNC, direct numerical control; NC, numerical control.

computer-aided design ( CAD)


computer-aided design ( CAD)

Product-design functions performed with the help of computers and special software.