February 20, 2017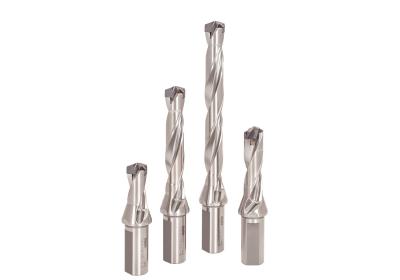 DrillMeister features simple and swift drill head indexing due to its self-clamping system. Tool replacement is easy: just replace the drill head. There is no need to remove the entire drill body from the toolholder and re-adjust the tool overhang, thus reducing a large amount of tool change time. A drill head can be mounted or removed with small torque and can be done in the machine as needed.
The new diameter ranges of 6.0 to 9.9 mm will be available with the TID type drill bodies of 1.5D, 3D, 5D and 8D, assuring incredible drilling performance for small-diameter holemaking in various materials. The flange-type drill body enhances chip evacuation due to the high helical flute angle and special-polished flute surface. Excellent chip evacuation can be achieved even in drilling deep holes of 5xD or deeper where chip evacuation tends to be difficult.
DrillMeister not only improves efficiency in machining but also drastically reduces machining cost by minimizing tool change time and eliminating regrinding cost, according to the company.
Related Glossary Terms
toolholder


toolholder

Secures a cutting tool during a machining operation. Basic types include block, cartridge, chuck, collet, fixed, modular, quick-change and rotating.
Additional Products from Tungaloy America Inc.