April 30, 2018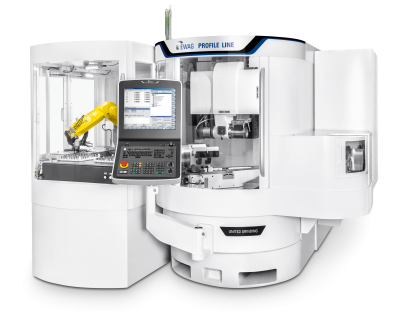 UNITED GRINDING has unveiled its new EWAG PROFILE LINE, an indexable carbide insert grinding machine. Developed in a partnership between Ewag AG and sister company Walter Maschinenbau GmbH, the PROFILE LINE serves as an efficient grinding center for the advanced processing of highly complex interchangeable insert geometries and interfaces.
The PROFILE LINE enhances production efficiency with innovative technology such as an intelligent, integrated six-station changer for grinding wheel sets with a coolant supply manifold that selects the optimal wheel to ensure the maximum possible machining volume for sintered insert blanks. The machine integrates both EWAG ProGrind and WALTER HELITRONIC TOOL STUDIO into its FANUC control unit to further expand the range of applications and improve insert geometries.

For unattended, lights-out operations, the PROFILE LINE comes equipped with an integrated six-axis FANUC robot that can easily accommodate customer-specific pallets. A high-resolution CCD-HD vision system is also available for loading grid pallets using magnetic grippers. Cleaning, reclamping and centering stations can also be integrated and adapted to the customer-specific product range.