June 14, 2018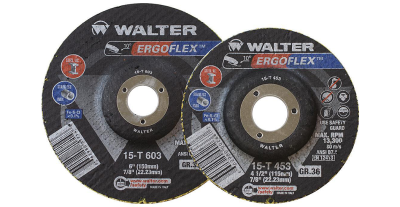 Walter Surface Technologies has unveiled its new ErgoFlex abrasive disc—a safer, more ergonomic, equally powerful alternative to traditional grinding wheels. Combining a type 29 disc design and Walter's proprietary Cyclone technology, ErgoFlex is for extremely smooth weld blending on both flat and curved surfaces. It allows for a more comfortable working angle than type-27 depressed center grinding wheels, along with cleaner, quieter grinding operations. With an aggressive 36 grit or higher abrasive grain blend, ErgoFlex removes material fast with minimal gouging risk.
"For manufacturing professionals looking to balance safety, ergonomics, and productivity, ErgoFlex is the perfect solution," says Marc Brunet-Gagné, product manager of bonded abrasives at Walter Surface Technologies. "ErgoFlex offers the same power and speed as traditional grinding wheels, but with 95 percent less dust, 50 percent less noise, 50 percent less vibrations and better ergonomics. It's also less likely to gouge materials, thus increasing efficiency and cost savings."
Designed for heavy manufacturing, pipeline construction, metal fabrication, and other industrial needs, ErgoFlex is suitable for use in a wide range of grinding operations including grinding welded steel and stainless steel, heavy grinding, weld removal and beveling.
Related Glossary Terms
abrasive


abrasive

Substance used for grinding, honing, lapping, superfinishing and polishing. Examples include garnet, emery, corundum, silicon carbide, cubic boron nitride and diamond in various grit sizes.

flat ( screw flat)


flat ( screw flat)

Flat surface machined into the shank of a cutting tool for enhanced holding of the tool.

grinding


grinding

Machining operation in which material is removed from the workpiece by a powered abrasive wheel, stone, belt, paste, sheet, compound, slurry, etc. Takes various forms: surface grinding (creates flat and/or squared surfaces); cylindrical grinding (for external cylindrical and tapered shapes, fillets, undercuts, etc.); centerless grinding; chamfering; thread and form grinding; tool and cutter grinding; offhand grinding; lapping and polishing (grinding with extremely fine grits to create ultrasmooth surfaces); honing; and disc grinding.