August 06, 2020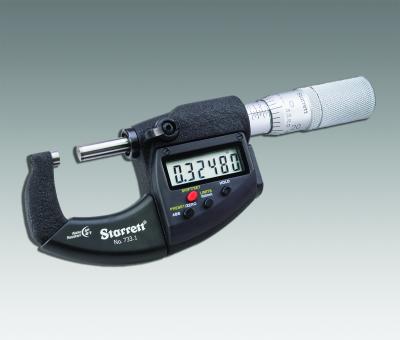 The L.S. Starrett Company, a leading global manufacturer of precision hand tools and gages, metrology systems and more, has introduced more than 100 Electronic Digital Micrometers with new features for improved ergonomics, functionality and productivity. The new Electronic Micrometers range from the No. 733.1 Outside Micrometers to a wide array of application-specific models.
To withstand the harshest shop elements including coolant, water, chips, dust and dirt while retaining tool integrity, the new micrometers include an IP67 level of protection on sizes 0 - 4" (0 - 100mm) and on various application-specific models. A modern, ergonomic, insulated frame design on the new No. 733.1 0-1" outside micrometer is designed for comfort and ease of use, providing an optimal user measuring experience. In addition, the new Electronic Micrometers offer upgraded electronics, a longer battery life, an advanced locking mechanism and a large, easy to read LCD display. Industry 4.0 ready, Starrett Electronic Micrometers are equipped with RS232 output, ideal for use with data collection systems such as Starrett DataSure®.
"We are very pleased to offer our newly designed Electronic Micrometers that preserve many of the precision quality features our micrometers are well known for, with added functionality, ergonomics and efficiency, and new competitive pricing. Starrett Electronic Micrometers guarantee a precise measurement at every position each and every time." said Tim Cucchi, Precision Hand Tools Product Manager at Starrett.
The Starrett 733.1 Electronic Micrometers are available in a 0-1" (25mm) model, up to 24" (600mm) and in 0-6" (152mm) and 0-12" (304 mm) sets of individual micrometers. Starrett Electronic Micrometers are accurate to
+/- .0001" (.002mm) with a resolution of .00005" (0.001mm). Micrometers have a knurled and graduated satin chrome finish thimble, and are offered with carbide measuring faces or with 52100 steel measuring faces on some application-specific models.
Related Glossary Terms
coolant


coolant

Fluid that reduces temperature buildup at the tool/workpiece interface during machining. Normally takes the form of a liquid such as soluble or chemical mixtures (semisynthetic, synthetic) but can be pressurized air or other gas. Because of water's ability to absorb great quantities of heat, it is widely used as a coolant and vehicle for various cutting compounds, with the water-to-compound ratio varying with the machining task. See cutting fluid; semisynthetic cutting fluid; soluble-oil cutting fluid; synthetic cutting fluid.

metrology


metrology

Science of measurement; the principles on which precision machining, quality control and inspection are based. See precision machining, measurement.

micrometer


micrometer

A precision instrument with a spindle moved by a finely threaded screw that is used for measuring thickness and short lengths.