February 01, 2016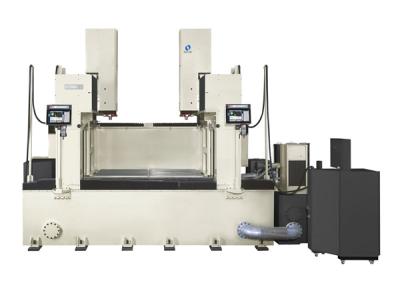 Makino Inc., Mason, Ohio, recently introduced the EDNC21 sinker electrical discharge machine (EDM) with dual heads that reportedly improve productivity and lower tool build time for large molds, the company announced in a Jan. 26 news release. The EDNC21 also includes Makino's latest EDM innovations and developments, such as the Hyper-i control, HyperCut technology and new HS-Rib high-speed Z-axis.
"As the design complexity of extra large workpieces, such as automotive bumper and fascia molds, continues to grow, manufacturers must identify new means for processing a wider variety and volume of small intricate features with maximum throughput," explained Brian Pfluger, Makino's EDM product line manager. "The dual-head configuration of the EDNC21 enables shops to process multiple fine details in a workpiece at the same time, significantly reducing total processing time. Due to its rigid and precise construction, the EDNC21 is capable of achieving the same level of accuracy and surface finish as sinker EDM machines one-tenth its size."
The EDNC21 features a work envelope of 122.0" × 70.9" × 39.4" (3,100mm × 1,800mm × 1,000mm) to accommodate extra large workpieces. Meanwhile, the X-, Y- and Z-axes of the machine are said to offer cumulative travels of 78.7", 59.1" and 23.6" (2,000mm, 1,500mm and 600mm), respectively. The EDNC21's gantry-style heads, each capable of traveling up to 78.7" (2,000mm), are independently controlled and programmed using a dedicated Hyper-i control system for each head. The EDNC21 also is said to accommodate a total workpiece payload of 22,047 lbs. (10,000 kg) and electrode weights up to 662 lbs. (300 kg) per head.
Related Glossary Terms
electrical-discharge machining ( EDM)


electrical-discharge machining ( EDM)

Process that vaporizes conductive materials by controlled application of pulsed electrical current that flows between a workpiece and electrode (tool) in a dielectric fluid. Permits machining shapes to tight accuracies without the internal stresses conventional machining often generates. Useful in diemaking.

payload ( workload)


payload ( workload)

Maximum load that the robot can handle safely.

work envelope


work envelope

Cube, sphere, cylinder or other physical space within which the cutting tool is capable of reaching.
Additional Products from Makino Inc.