July 01, 2010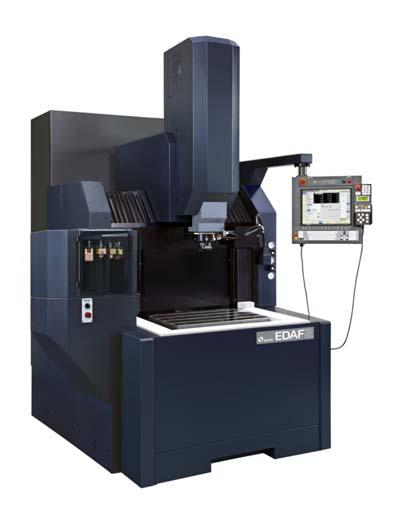 Makino introduces their latest Ram EDM machinery, the new EDAF Series, featuring a new mechanical design for increased rigidity and reduced thermal distortion. The EDAF-series is ideal for manufacturers facing uncontrolled thermal environments and long hours of unattended burning. EDAF-series machines are also equipped with an improved servo system for rapid response to signals from the spark gap monitoring circuits, enabling cycle time reductions of 10-20 percent in burns common to today's job shop applications.
The EDAF series features two models, the EDAF2 and EDAF3. The sizes of the EDAF2 and EDAF3 are 53.2" x 95.5" x 98.4" and 59.1" x 102.4" x 100.8" with X, Y, and Z axis travels of 13.8", 9.8", 9.8" and 17.7", 13.8", 13.8"; respectively. The EDAF2 provides worktable dimensions of 21.7" x 13.8" with a payload of 1102 lbs., while the EDAF3 offers table dimensions of 27.8" x 19.7" with a maximum payload of 1764 lbs. The EDAF-series comes standardly equipped with the sophisticated spark gap monitoring and arc prevention technology.
Makino's new ArcFree Technology helps prevent destructive DC arcs that typically lead to time-consuming clean-up procedures or scrapped parts, according to the company. With ArcFree Technology, manufacturers can burn any application, fully unattended, worry-free. Even applications with unfavorable electrode/workpiece geometry can easily be started with unusually high current density, and relied upon for flawless results. Included in the EDAF series is Makino's new on-board programming system, Makino Program Generator (MPG), designed to make the Makino MGH control more user friendly, while generating more aggressive model plans to meet the demands of shortened lead times on today's shop floor. By providing answers to simple prompts, and inputting basic data, even novice operators will be able to generate efficient and safe burn routines. This new program generator also allows for programming of multiple electrodes and multiple burn locations.
The company's High Quality Surface Finish (HQSF) technology provides the EDAF-series with improved electrical conductivity for more consistent discharging and spark diffusion. HQSF technology eliminates secondary discharges that waste energy while permitting increased efficiency of the sparks for a superior finish without a loss in metal-removal rates. In addition, the HQSF technology allows for achievable surface finish capabilities that are 50 percent better than that of conventional achievable surface finishes, regardless of discharge surface area.
Additional Products from Makino Inc.