July 12,2012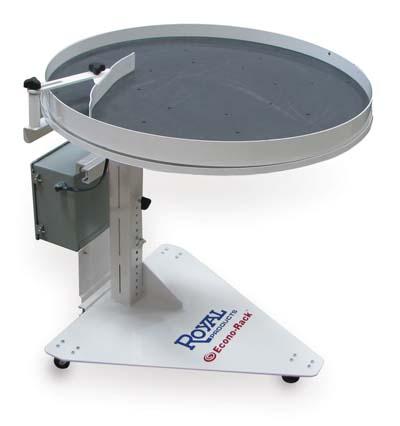 Royal Products has introduced the Econo-Rack, a device that safely collects finished parts as they come off of any bar-fed CNC lathe. It prevents damage to finished parts and reduces mess, feeding products onto a turntable covered by a low-friction UHMW material instead of into an oil-filled collection bucket.
The Econo-Rack enables manufacturers to let machine tools run unattended for extended periods. Because the Econo-Rack can keep running long after employees have left, the extra production hours may significantly increase profits.
Free-standing with adjustable height, the Econo-Rack can be easily moved from machine to machine. With its compact 28-inch diameter and 100-pound load capacity, Econo-Rack is ideal for Swiss-type applications.
The Econo-Rack is a lower-cost alternative to Royal's Heavy-Duty Rota-Rack, which has a 36-inch diameter and can handle up to 700 pounds of parts. Utilized to its fullest extent, it's possible to generate an additional profit of $150,000 to $200,000 per lathe, per year with the Royal Rota-Rack.
Related Glossary Terms
computer numerical control ( CNC)


computer numerical control ( CNC)

Microprocessor-based controller dedicated to a machine tool that permits the creation or modification of parts. Programmed numerical control activates the machine's servos and spindle drives and controls the various machining operations. See DNC, direct numerical control; NC, numerical control.

lathe


lathe

Turning machine capable of sawing, milling, grinding, gear-cutting, drilling, reaming, boring, threading, facing, chamfering, grooving, knurling, spinning, parting, necking, taper-cutting, and cam- and eccentric-cutting, as well as step- and straight-turning. Comes in a variety of forms, ranging from manual to semiautomatic to fully automatic, with major types being engine lathes, turning and contouring lathes, turret lathes and numerical-control lathes. The engine lathe consists of a headstock and spindle, tailstock, bed, carriage (complete with apron) and cross slides. Features include gear- (speed) and feed-selector levers, toolpost, compound rest, lead screw and reversing lead screw, threading dial and rapid-traverse lever. Special lathe types include through-the-spindle, camshaft and crankshaft, brake drum and rotor, spinning and gun-barrel machines. Toolroom and bench lathes are used for precision work; the former for tool-and-die work and similar tasks, the latter for small workpieces (instruments, watches), normally without a power feed. Models are typically designated according to their "swing," or the largest-diameter workpiece that can be rotated; bed length, or the distance between centers; and horsepower generated. See turning machine.
Additional Products from Royal Products